foXnoMad is one of the most established individually-written travel blogs online with an annual collective audience of nearly 9.4 million readers worldwide. Since being created in 2006 foXnoMad has been featured in publications including The New York Times and TIME Magazine. The foXnoMad brand has also published 5 of the top 50 travel apps on iOS, reached over 8.5m views on YouTube and the foXnoMad Podcast has been ranked in the top 10 in tech on Apple Podcasts.
For more information on working with the foXnoMad brand, contact us.
As Seen In
---
How You Can Advertise On This Site

There are many ways your company or service can reach my audiences, these are just several popular options.
Sponsor A Post Or Page
You can sponsor one of my upcoming posts or existing pages (e.g. Countries). I retain all editorial control of the content – the posts themselves aren't for sale and I don't allow advertorials. But if you've got a product or company and we're a good match, you can let my readers know about it with a blurb atop my next article or a destination page.
Banner Ads
There are several spots where you can show off the best you have to offer. Banner ads can be placed on the homepage, individual pages and in various spots like the sidebar or the header atop the main menu.
Sponsor An Edition Of The Newsletter
My bi-monthly newsletter is subscribed to by nearly 900 people and covers content from all of my sites. There are a number of ways to advertise on a single or recurring edition.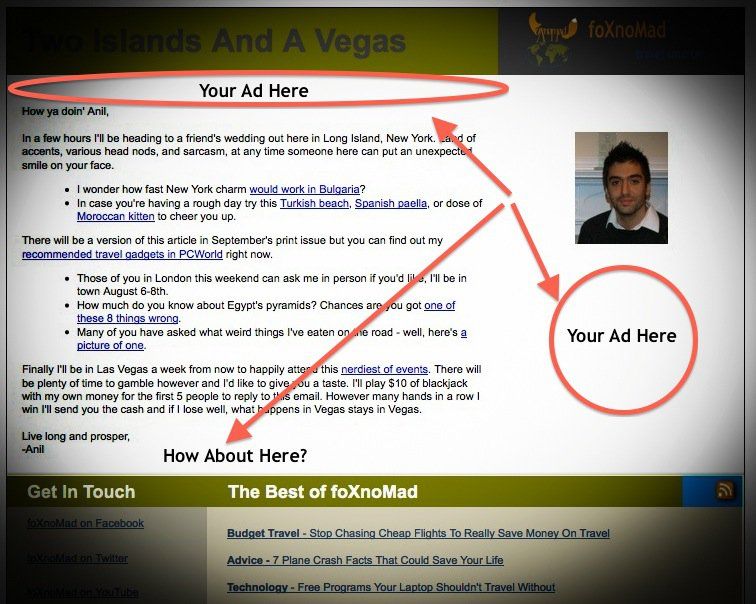 Go Mobile
You advertise directly to my web and tech savvy audience who loves to go mobile – both literally and digitally.
There are some options brands have to reach the foXnoMad audience. Contact us for more information.