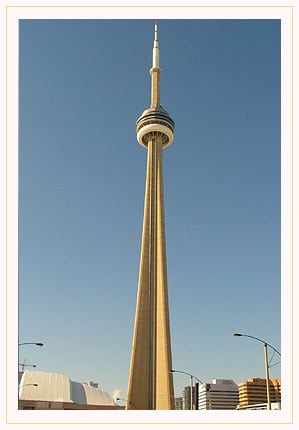 Daryl writes:
The Canadian National Tower, or CN Tower, stands prominent on the Toronto skyline. Opened to the public on June 26, 1976, it is the tallest free-standing structure in the world and is quite a tourist attraction.

I went recently and I can tell you personally that the views are spectacular, although the admission price of $20 is a bit steep. On a clear day they say you can see 160 kilometers in every direction but don't ask me to do the translation from the metric system. If you plan on dining in the revolving restaurant, which is an expensive proposition, they won't charge you the entry fee. One of the observation decks has a glass floor, and with a view straight down almost 500 meters the view is almost dizzying.

If you plan on visiting Toronto I highly recommend you check out the CN Tower. You can see almost the entire city from the top, as well as a beautiful view of the nearby lake. Definitely a breathtaking view.
Been anywhere cool – we'd like to hear about it! Feel free to shoot an email to us.