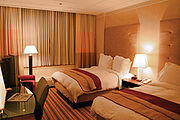 Search a large network of hotel deals and offers not available through other sites on LodgingHunt.com. The site has agreements with hotel affiliates and is a good place to find niche and individually owned hotels not carried by larger online travel agents.
Each state is broken down into cities you can look through to get the best rates for, Arizona lodging, for example. Aside from prices and rates, each hotel listing has detailed information on the amenities available. The description of each hotel also contains important travel information, such as how close it is to local highways and airports.
LodgingHunt provides gym rats with specific workout room information, such as how many treadmills and weight equipment there is at specific Illinois lodging, for example. In the event that you lose yor cat in Nebraska and need a place to stay in an off-the-beaten path town, head your Web browser to LodgingHunt.
The best part about the site, besides the good rates it find, is the picture of each hotel with every listing. You can actually see what your hotel will look like – not just the mis-leading advertising photo. Don't let LodgingHunt's simple layout fool you, the rate and hotels it offers can't be found everywhere. From Nevada lodging to California, LodgingHunt can save you dollars and help you find the best hotel for your needs.