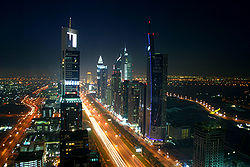 Owners of residences and apartments in Dubai, located on the Arabian peninsula can rent and market their property on Dubai Apartments. The site is a place for advertisers to find visitors and tourists who may need a place to stay during their visit. Hotel prices are notoriously high in Dubai, which is quickly becoming a major travel destination both for business and pleasure.
Many of the residents who have apartments in Dubai don't live there all year round and try to make up for their loss by offering short-term residences. The site is easy to navigate and searches can be based on price, number of bedrooms, and dates. Those of you stopping by Dubai would be wise to look for rental Dubai apartments – both to save on money and stay in a great location downtown.
Visitors who may not be comfortable with the idea of apartment rental can also do a hotel search. Dubai Apartments puts users in touch with companies who can offer discounted rooms in Dubai hotels. Large businesses and wealth private owners can get lower prices by buying blocks of rooms at a time. All of the rooms returned on a given search will give you cost (with a cost calculator for longer stays), amenities, and specifics such as smoking policies and handicap access.
Aside from the search capabilities and offers on Dubai hotel apartments, the site provides background information on Dubai and travel there. The tiny emirate has become wealthy on oil but has the foresight to see that this income stream will not last indefinitely. This is why, aside from a variety of business initiatives, Dubai is catering to be a tourist hot spot. Travel there can be expensive, and basic commodities costly for the casual traveler.
Dubai Apartments is the single largest site offering information and rental services to over 120 self-catering properties.
This is a sponsored review of Dubai Apartments.