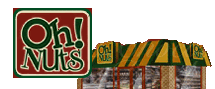 Find a wide variety of rock candy, sugar swizzle sticks, chocolate and other sweets at Oh! Nuts. The site has over 2,000 varieties of candies available for delivery.? The prices are low per unit and the rock candy and swizzle sticks are kosher.
Users can sort that candies by price, rating, or occasion (such as holidays or birthdays). Oh! Nuts makes it? easy to navigate their selection and prominently displays the customer service phone number for inquiries. Orders can also be made over the phone as well as through their website or Google Checkout. Items bought in larger quantities can be purchased at bulk rates or from one of their 4 retail locations. The list of all of their candy categories is on the left hand side of every page giving you the ability to look for candy by color, if you choose.
Oh! Nuts was founded in 1992 and aside from its large selection carved out its niche by offering many kosher candies. I haven't been able to try and of their rock candy, but would gladly do a review if Oh! Nuts would like to send me some to try.
I like a website that features its products on several main pages, not scattered throughout obscure or dead links. The company establishes trust with its customers with its years of experience and high customer satisfaction. Oh! Nuts' greatest asset of course is their quality, kosher rock candy and sizzle sticks. Give them a try with a bulk order at wholesale prices.
This is a sponsored review of Oh! Nuts.