This is a guest post by Priyank, who writes his travel stories and photographs from the road on "Final Transit," his travel blog. Follow him on his newly created Twitter profile @finaltransit and join his Facebook page to read more about his travels in Mexico and beyond.
Tour The Fascinating World On The Other Side Of Those Turnstiles
Mexico City's underground metro system is cheap, fast and efficient. It is quite comprehensive and can take you to different corners of this gigantic city in a ride that is way more pleasurable than driving on the clogged streets above. Called 'Metro de la Ciudad de Mexico' in Spanish, this is the second largest metro in North America and about 1.5 billion commuters take it everyday.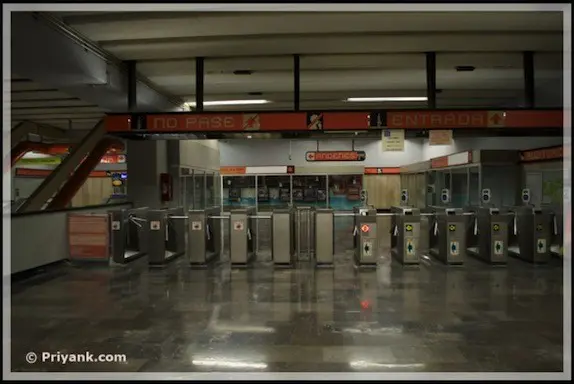 My experience in the subway system was exciting from the moment I entered it. The thing that struck me was how self-sufficient the underground was.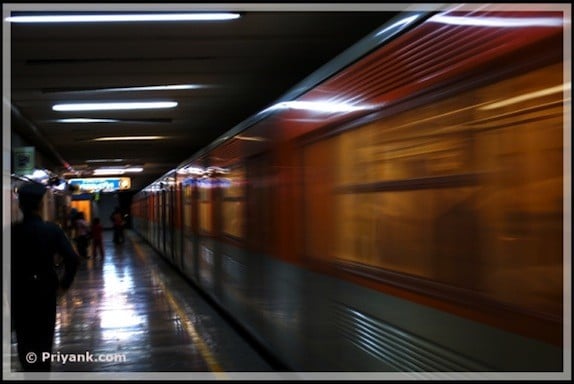 Eat And Drink
The first thing that you see is the large number of food stalls. It had everything – juice bars serving fresh fruit, kitchens serving tacos, tuck shops carrying junk food and even fast food chains like Subway. The metro system had a variety of options for the hungry stomach and if the legally operating stores don't carry the stuff you want, there is always a lady selling fried stuff from her basket. Most of it is the unhealthy kind, but somehow I can always make room for some more fried potatoes.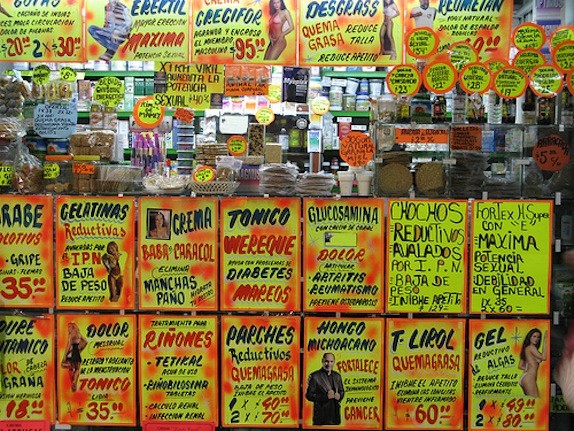 Shopping And Entertainment
The stores selling clothing, housewares, stationery, kitchenware and all kinds of stuff for the commuter were less than stellar but the star attraction for me was the a virtual market on wheels that operated on the trains.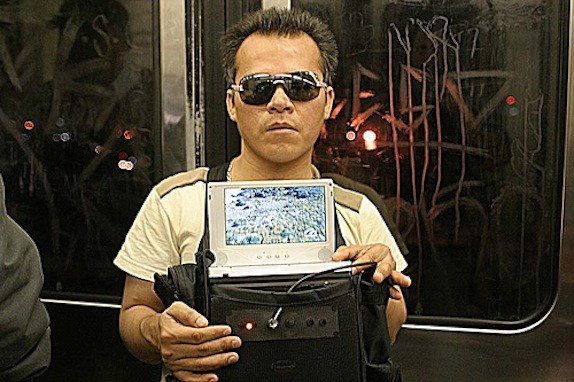 In my very first ride from the airport to the city, a guy wearing a backpack walked into the coach after I did. I thought he was also a tourist. But soon I heard loud music blaring through amplifiers that were in his bag. It sounded like some generic street trash (PS: I like that kind of stuff).
The guy was holding a bunch of CD's and asked if I was interested. Since I wasn't, he proceeded to sing along with the music and walk through the coach to the door on the other side. Pretty soon I found that you could buy chewing gum (called 'chicklet'), books, magazines, musical instrument, pirated DVDs, candies, or even get your shoes shined from sellers who enter and leave the coach at every station in what seems to be a well coordinated system. I never saw more than one merchant in the compartment!
Then there are buskers who 'perform' acrobatics inside the (often crowded) coach, musicians, or simply blind and handicapped people soliciting money. It was exciting to see so much activity, but often reminded me of the grim reality.
Rush Hour City
New York's peak hour subways seemed roomy after I traveled in Mexico city's rush hour. After I couldn't disembark at my station this one time, I revived the survival skills that commuting in Mumbai had taught me. The trick is to simply to stand near the door before your station arrives. When the train stops, you will automatically find yourself landed on the platform. It's like magic. I watched my wallet, you never know when there's too much magic.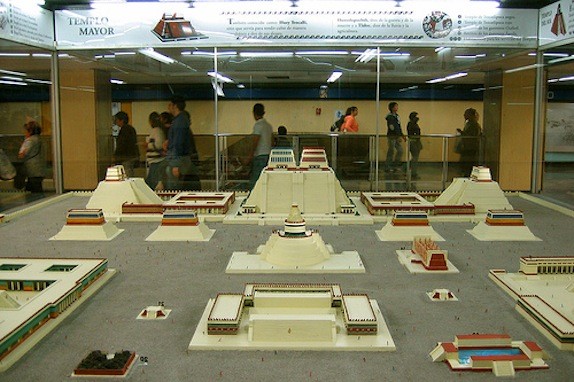 Touristic Sights
There are artworks and exhibits in this underground city for people to see. For example, at the Zocalo station, there is an installation showing the ruins of Tenochtitlan before Spanish invasion; and if you are transferring at the La Raza metro station, astronomy enthusiasts will love walking through the simulated 'night sky' with various constellations, stars and planets.
The People Of The Underground
During rush hours, the coaches at the front are usually reserved for women and children and policemen will shoo you away if you take a step in that direction. There are large number of young couples making out everywhere in the train, quite oblivious to their surroundings. I've also heard of the last coach being popular among young couples and homosexuals but I wasn't able to tell why. In addition, depending on the time of the day there are homeless people, beggars and disabled persons. Each station has a symbol and stations on each line have a color theme, thus making it very easy for illiterate users (including for travelers who cannot read Spanish!)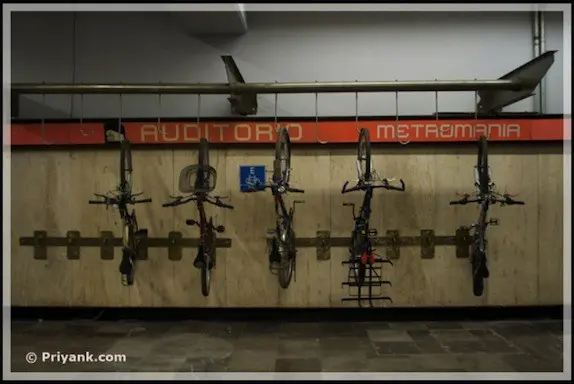 Overall, I found the system to be quite collectivist: People stand shoulder to shoulder, push and shove, argue like friends, accommodate each other, give up seats for others and if you have a big bag (which I did), the people sitting will make space for it.
Safety In Mexico City's Metro Underground
The guidebooks paint a somewhat scary picture of the metro system with pickpockets and random dangers and annoyances. But I didn't find it any different from what I would do in any other big city. General rules and common sense of travel applies and unless you are acting like a paranoid tourist parading expensive stuff, you should be fine. There are lots of policemen (which actually bothers me because that suggests the prevalence of crime.)
So that concludes the tour of the city under Mexico City. Have you traveled in any metro systems that can get lively like this? I'm all ears!
Thank you very much Priyank for this colorful look at a city beneath a city. You can read more from Priyank on his blog Final Transit, @finaltransit on Twitter, and find Final Transit on Facebook as well.
[Photos not labeled @Priyank.com by: gnzlcrdns (food stall), angeloux (salesman), Chez Cesver (Zocalo model)]