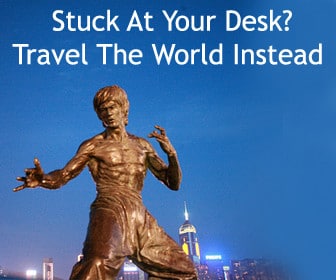 My series on overcoming obstacles to traveling the world turned out to span 2 months, generate over 100 comments, and had my inbox filled with messages from people who wanted to, had, or were currently overcoming the 7 obstacles themselves. I travel around the world full-time and can teach how to travel as much or little as you like as long as you're willing to put the effort in to do.
This Is The eBook That Will Teach You How To Travel The World – On Your Terms
Learn step-by-step what you need to know to travel the world in your terms. Traveling the world seems like a huge undertaking daunting enough that it prevents most people from following their dreams. It's scary when you look at it as a whole – leaving your job and regular routine to live out your dream of long-term travel – and why the best approach is to break down the monster.
Let's tackle, together, the 7 major obstacles to traveling the world that hold people back.
1. You Are Comfortable At Your Job – Figure out why it keeps you from traveling even though you might want to escape it along with information about talking to your boss and financing your trip after leaving work.
2. You Think It's Too Expensive – Learn how little you actually need to spend and countless waist perfect your budget along with modern ways to save money.
3. You Don't Know Where You'd Go – Big dreams can often be as discouraging as large problems and you'll need to come up with a basic place and route to follow. Don't let the word "plan" put you off though, this is one very fun step!
4. You'll Miss Your Family and Friends – Use technology to shrink your world even further.
5. You Have Kids Or Will Soon – There are many permanent travelers who children and traveling families. Meet some of them and hear their stories.
6. You Don't Know What Your Significant Other Will Say – Work together to put your travel plan in focus and prepare for many of the difficult points you're likely to come across.
7. You Will Travel The World…Later – Understand the psychological reasons we procrastinate and learn how to grab hold of a quiet but powerful obstacle.
Overcoming The 7 Major Obstacles To Traveling The World also contains many personal stories other world travelers like John Bardos, Marina Villatoro, Dan's Adventure, The Q Family Adventures, Deb and Dave, The Road Forks, and Cody McKibben to help you build your knowledge of how to prepare for and sustain long-term travel.
Where To Purchase Overcoming The 7 Major Obstacles To Traveling The World
You can begin your plan for traveling the world by purchasing Overcoming The 7 Major Obstacles To Traveling The World for your laptop or directly to your Amazon Kindle or Barnes & Noble Nook eReaders.
Available From:

Amazon.Com                                                                                                     Barnes & Noble
What Others Are Saying
Get more perspective on Overcoming The 7 Major Obstacles To Traveling The World by reading some of these reviews by other bloggers and travelers.
Mark of Travel Wonders: "Aimed both as a one-time read and as a regular ready-reference with a collection of tips and ideas towards reaching a goal of traveling to your dream destination, this book should help inspire fighting your demons that may be holding you back from travel."
Erica of Travel Blissful: "Apart from the advice in the ebook, you'll find links to some of Anil's previously published blog posts for more thorough information. And the personal stories from bloggers and long term travelers at the end are truly an inspiration."
Heather of Heather On Her Travels: "I must admit that I started reading this book in a slightly skeptical frame of mind, as I already travel a fair bit, and manage to combine it with a non-blogging career and family commitments, so I wondered what I could learn. However, as I read on, the book began to resonate with me as a way of looking at any obstacles that might prevent you from achieving what you want in life, and breaking them down to make them easier to overcome, in whatever areas of your life those might be."
Briefcase To Backpack: "Still not sure if you want to purchase the book, then consider this…$8 USD is less then you'd spend on two lattes. Trust me – a latte won't get you any closer to your career break dreams, but this ebook will."
Are You Ready To Travel The World – Let's Begin

Purchase Now From: Amazon.Com or Barnes & Noble