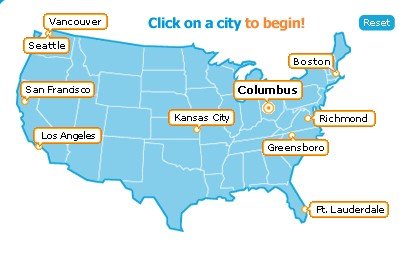 Startup airline Skybus is attempting to corner the industry on flights to mid-major cities. Flights during the week are $10 all of the places they currently fly too and up to $30 on the weekends. The catch is for now flights only go in and out of Columbus, Ohio – so unless you live there your first 10 bucks goes to stopping over at the Buckeye State (taxes and fees not included). Travel is only within the domestic US.
Their 11 Airbus jets are all new and fly non-stop (if you don't include Columbus). Still you might want to take advantage while you can as you might not be able to find a better deal through conventional methods. Though be warned, finding a flight before May is going to be tough and matching cities isn't as easy as it should be (the site is still a bit flaky). They also have deals on rental cars, hotels, and vacation packages.
To get the best deal on your tickets always buy at the the best time (Wednesday nights), use FareCast narrow down the best date to buy, and FareCompare to make sure you got the best possible price.