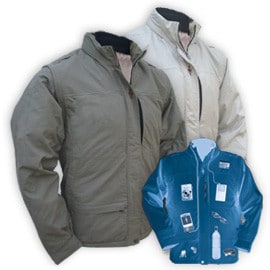 The 237D jacket is made for the traveler and has 33 pockets with magnetic flaps that can be used to store a host of items.
The 237D has 33 pockets and compartments, the patented Personal Area Network (PAN), DCC+, and tons of features including magnetic closures on the pockets and windflap, battery holders, detachable key chain, bottle holder, secret pocket, eyeglass chamois and more.
You can order the jacket online for about 75$ – it would make a great addition to your solar-powered backpack.
Thanks Chris!