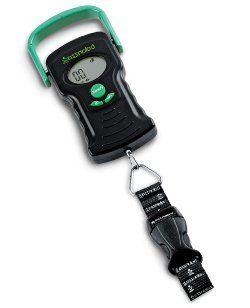 The New Digital Scale lets you quickly determine the weight of your luggage. The New Digital Scale ties around the handle of any suitcase, after lifting, the device beeps alerting you of the exact weight.
The international weight limit for suitcases is 44 kg (100 lbs) – though this varies by airline. If you do go over the limit, just through the excess in another piece of luggage. Weight limits are per piece of baggage, not total.
The New Digital Scale is around $25 and weighs 8oz. Remember to have someone else pack it for you before the next vacation.
[via Lifehacker]