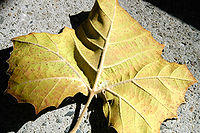 Peter Greenberg writes that New England is not the only place in the US to enjoy the fall leaves, you just have to know where to look.
They don??t call it Aspen for nothing. Located high in the Rocky Mountains, Aspen, Colorado is awash in golden yellow in the month of September. The area is known for its quaking aspen trees and white-barked aspen trees, mixed with the rich hue of the evergreen trees. [Fall is] even better, because this is shoulder season for the ski resort, hotel rates drop as much as 50 percent (starting at $100 per room per night) and restaurants offer discounted menus.
If you've missed the mid-September Aspen foliage season, you can head north to Nova Scotia (end of October), Napa Valley, Illinois, or North Carolina. The changing colors of leaves vary each season so make sure to check the peak time for your area.