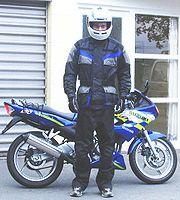 Traveling by motorcycle can be made safer with the use of an airbag jacket that inflates if you're ejected from your bike. It has already saved lives.
Motorcycle airbag jackets work by filing the jacket up with carbon dioxide when the rip cord between the bike and the jacket is broken. Riders can adjust how hard the cord must be pulled to cause the jacket to inflate and have to remember to connect it to the bike each time they get on.
Check out The Motorcycle Diaries and Long Way Down to inspire your inner gypsy. No word on the price of this jacket but seems much useful than an airbag mounted on the bike itself.