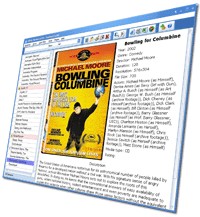 Organize and keep track of your DVD collection at home with the cataloging software, All My Movies. The program is a customizable personal database that gives you the ability to digitally catalog a virtually unlimited number of DVDs, CDs, and other media.
The movie organizer is designed to add substance to your existing collection and pulls movie information from a variety of Web sources. All My Movies gathers cast, photo, and background information from IMDB (Internet Movie Database) among other sources. The product is mainly geared toward movie buffs and those who want to add some spice to their DVD rack.
All My Movies can also play DVD movies and video in other digital forms and provides enhanced statistics on you collection. This may not be the program for those who only have 12 films in their collections, but if you or someone you know has a set spanning years All My Movies is a good archiving tool.
Aside from personal use on the desktop, All My Movies lets users share their collections with friends and family, capture DVD stills, and export the database to HTML format for use on a website or blog. All My Movies goes for $34.95, although the company offers various discounts worth looking into.