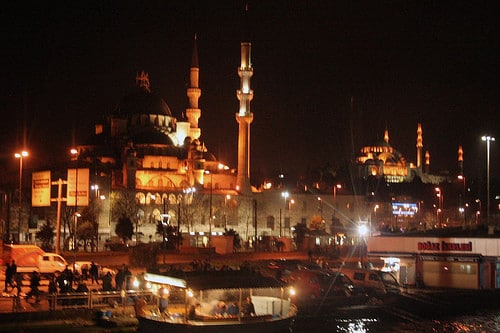 This was first written as a guest post for Hostel Bloggers, who changed the original content. Here is the post  as I wrote it and meant for it to be read.
Istanbul is my favorite city in the world for the simple reason that it is endless. The city can be overwhelming for tourists in both variety and complexity. Istanbul is many things to many people and if I had 48 hours in the city, here's what I'd recommend to get your feet wet, jump in the pool, or become a fish in this city which spans two continents.
Get Your Feet Wet
The three places that any first trip to Istanbul can't be without.
Hagia Sophia (Ayasofya) – Originally a church constructed around the year 550 A.D., the building was converted into a mosque after the Ottomans conquered the city 900 years later. Aside from the impressive 15 meter main dome, you'll see paintings from the original churches that are currently being uncovered by researchers. The lines vary, but expect a visit to take from 1-3 hours.
The Grand Bazaar (Kapalı Çarşı) – The oldest covered market in the world is an afternoon of adventure in of itself. Every shop is unique with many hidden treasures (you can find Ottoman relics tucked away in corners being sold for nothing if you look hard enough). Brush up on your bargaining skills though, and don't be surprised if the shopkeeper offers you a cup of tea. You can get lost in the bazaar (and to get a good deal) st aside around 3-5 hours.
A Ferry Right Across The Bosphorus – The locals use the multitude of ferries crossing from the European and Asian sides of Istanbul to get to work and visit friends during their daily lives but it's an essential for any traveler to Istanbul. The ferries offer a great view of the city, including the Süleymaniye Mosque (Sultanahmet) to Topkapı Palace. The entire trip will take about 15 minutes. (Do it a few times to get around, 1 hour.)
Jump In The Pool
Mikla – Turkish cuisine is a blend of dishes that were absorbed during the Ottomans years, and Mehmet Gürs has taken his Swedish background to the Turkish menu. One of the most varied and adventurous blends you'll find on a plate in Istanbul, the view from the restaurant overlooking the Asian side of the city is a feast for your eyes. Enjoy an evening at this pricey restaurant and spend about 2-3 hours on a 12-course meal.
İstiklal Caddesi in Beyoğlu – Istanbul is loaded with lavish bars overlooking parts of the city and you'll be able to find one easily on Istiklal Caddesi (street). The main street is loaded with tourists but hop off the beaten path to one of the side streets and you'll find a number of small cafes, pubs, and nightclubs. Have a night of drinks and wash away your hangover by picking up an 'islak burger' (pictured left) on your way back to your hotel or hostel. Likely terrible for you and lacking nutrition, these after hours snacks are delicious. The entire experience could last anywhere from 2-6 hours.
A Boat Tour Of The Bosphorus – An extended version of the traditional ferry, hop on a designated 'Bosphorus Tour' all the way from Eminönü on the European side to Anadolu Kavağı on the Asian side (close to the Black Sea). Make time in the afternoon so that you can stop by one of the many restaurants on the shore serving freshly caught fish and Turkish appetizers. You can hop on and off the boat at each stop as you please, but if you take the entire trip (with lunch) plan on spending about 6 hours. (Drink Turkish Raki and add 2 hours.)
Become A Fish
Visit A Turkish Bath (Hamam) – These bath houses were social meeting places in the days of the Ottomans and an experience that is uniquely Turkish. Don't be intimidated by the hamams, the process is fairly straightforward (most have separate sections for men and women). Don't be shy either, you'll be naked for most of the time, until you get a towel to dry off. Get a scrub and massage, and move back and forth between the hot and cold sections of the bath. The easiest hamam to navigate and most popular in Istanbul is the Çemberlitas Hamami. Enjoy some tea after a steam and scrub, and relax as long as you'd like. An average of 2 hours.
Go To A Football (Soccer) Game – Not for the faint of heart, a football match in Istanbul is surreal. Dubbing the atmosphere of the stadiums 'hell' by many visiting European teams, 3 of Turkey's major football clubs call Istanbul home. Tickets may be hard to come by but hop online and try to book in advance for a Galatasaray, Besiktas, or Fenerbahce game to witness a sea of fans chanting and cheering for their home team. Take my advice on staying safe at an international football game before you go and enjoy the experience, which should run you about 5 hours total.
Istanbul is a great city to get lost in, if you let yourself.  Be careful to only let the city overwhelm your senses, but not your schedule. Take your time, and rather than squeeze in a little bit of time brushing by a number of sights, set aside a few hours to enjoy what you decide to experience, whether your just getting your feet wet or jumping right in.
[photos by: georginchen, Boudreaux and Andrea]