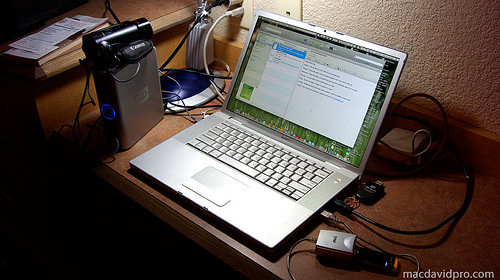 It seems as though many of you are traveling with at least 2-3 travel gadgets that you just can't hit the road without. As for me I probably travel more 'digitally heavy' than most but then again, based on these 14 responses to what gadgets can you not travel without, I'm not so sure.
Voltage adapters: 2
Rechargable batteries: 2
Laptop: 8
Camera: 9
Mobile phone: 3
Music speakers: 1
External drives: 4
iPod: 2
RennyBA's Terella: "I just need my laptop and mobile phone – then (with WiFi), I'm always on, are able to do my work, connect with people and take pics."
ATravelAroundTheWorld: "I am a full time traveler, for me is essential to always have with me an international plug adapter, 4 spare rechargeable batteries (you never know), of course laptop, photo camera, mobile phone,my fishing rod and some clothes."
AirTreks Nico: "I also like to travel with a set of mini-speakers. Gotta have some tunes to wake up to!"
Stephanie: "If I don't see things through my camera lens I feel like I haven't seen them at all."
Dan: "I take my netbook (Samsung NC10), camera and spare batteries everywhere."
Mark H: "For me, it is only a camera but most trips are accompanied with a laptop as well."
Priyank: "Camera and ASUS EEE, thats it!"
Nomadic Pinoy: "I don't bring much gadgets as I try to travel light but my trip won't be complete without my camera and Ipod."
Sherry Ott: "I use an old ipod (no one wants to steal it) that is 80G – so I also use it as backup storage for my laptop. Plus – I keep my 'best' photography uploaded on it so that when someone wants to see it – I can easily whip out and show them my portfolio of work!"
Shannon: "I travel with a travel-sized power strip that folds up easy and gives me a few extra outlets in a hotel room."
Nisha: "My digicam, universal plug adapter, 4 spare rechargeable batteries, my mobile phone, Pen drive."
Personally I always carry a laptop, voltage adapters, iPod touch, and a host of USB, ethernet, and other cables. Since my office travels with me I bring as much of it as I can because it's so hard to predict what will be available at the next destination. I bring these items because I work from the road (yes, and I love technology) but what are some of the reasons you travel with gadgets?
[photos by: MacDavid Pro, Flashpacking Life]