For the past 8 years, HostelWorld has recognized the top 10 hostels worldwide with the best reviews on its website with the annual Hoscars Awards Ceremony (HOStelworld Customers Annual Ratings). I was invited by HostelWorld to attend this year's event last week at The Button Factory in Dublin, Ireland. The Hoscars is essentially a big party to honor the hostels that are ranked the highest in a number of categories like Most Improved, Cleanest, and Best Staff in additional to the top 10 overall worldwide.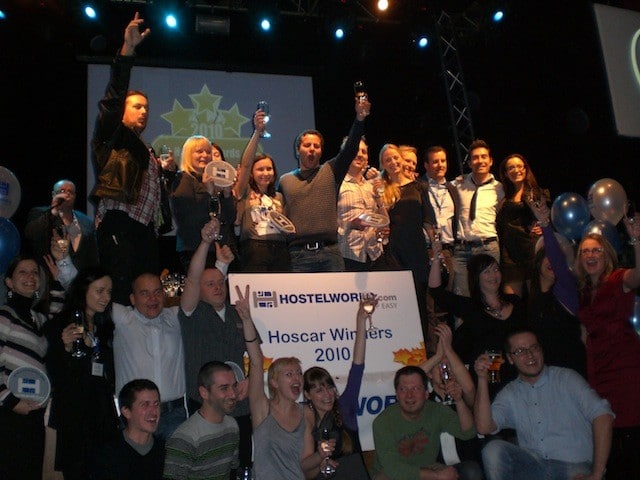 The Hostel Owners
I was surprised to see how many young hostel owners and staff there were, many of them current or former backpackers themselves. They were very keen on maintaining and improving upon their reputations in their respective categories and the other hostels not on any of the lists were looking toward 2011. The hostel owners and staff take the reviews of their hostels seriously and the Hoscars seem to benefit hostels and hostelers alike.
The Top 10 Hostels Worldwide
I'll introduce you a bit more to these hostels later in the week, which are overwhelmingly based in Europe. The results were based on over a million user reviews of 23,000 hostels featured on HostelWorld.
I would like to have seen hostels representing a wider global reach. While Europe is certainly a very popular area of the world for backpackers, I'm sure there are excellent and unique hostels from other parts of the world that simply didn't get enough volume of votes.
The HostelWorld Hostel Conference
The Hoscars were only one part of a 2-day HostelWorld hostel conference revolving around how hostel owners can better use social media to engage travelers. The discussions revolved around what travelers want (i.e. booking very last minute and family rooms) and accommodating the newest backpacking nationalities (Brazilians are climbing the list fast).
Hostel Feedback
Often travelers don't regard hostels as businesses and neglect to leave feedback online or in person during and after their stays. I tried to speak with as many of the 400 hostel owners in attendance as I could and almost all seemed receptive to comments and complaints – but noted that backpackers in general don't make their concerns known immediately.
That the top hostels are recognized both globally and locally by events like the HostelWorld Hoscars pushes the receptive hostel industry in the right direction, opens up budget travel to more people, and improves it for current backpackers.