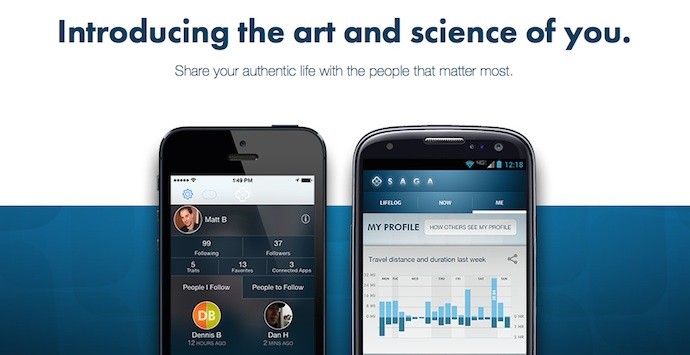 Across the Baltic countries, Norway, and now Ukraine, I've been traveling with a digital companion in my pocket that makes it immensely easier to record what I've been up to and better share with all of you. The makers of the free Saga app got in touch with me to put some serious miles under their product and in the process, gave me a new way to look at the pairing of travel and social media.
What Is The Saga App?
Saga is an iOS/Android app that does a lot but its underlying concept is simple – it essentially tracks your travels using the GPS in your mobile device, so you can later see where you had lunch on the third day of your trip to Portugal, for example. Additionally, it funnels your selected social media accounts (e.g. Instagram, foursquare, Twitter etc.) to create what the makers call a "life log" or digital diary of a given vacation. Personally I'm a big fan of the statistics Saga generates which show you how much you actually walk when sightseeing and the average pace you maintain.
Initially I wasn't entirely comfortable with the amount of automated data Saga gathers but it's all listed in your life log for review, confirmation, and removal if you choose.
You've Already Got Social Media, So What?
Well, unless you like opening apps one at a time to retrieve aspects of your travels you've quickly forgotten (what was the name of that cafe where you had life-altering gelato?) Saga compliments what you're already using. Although Saga's got a pretty active social network of its own, which you become a member of when you create an account, the funneling of your collective digital self is its true strength.
Generally, web services and apps that try to consolidate social media do a terrible job at it since it often seems they're more interested in trying to push their own side network. Saga doesn't have that feeling nor is their goal to pull you away from digital homes you've already made. For the traveler, the Saga experience is more about organizing what can be a chaotic electronic path online we create in the aftermath of our physical steps.
Destination Automation
As someone who lives online it's intimidating to consider adding a new way to capture a city as I snap, post, and update all on the go. The designers of Saga have done one hell of a job of having the app automatically record with very little interaction. I'm typing this in a cafe in Donetsk, Ukraine and Saga has quietly figured out that I'm at Traveler's Coffee on Artema Street. Assisted by my foursquare check-in, GPS, plus adding the color of a few quick mug pics on Instagram, Saga has made a little journal of my day I can share with other Saga friends or later use to remember that the chocolate macaroons here shouldn't be missed.
While I know it can be difficult to build up the momentum to download one more travel or social application, Saga seamlessly fuses both to enhance what you're already recording as you wander around the globe. Saga is a free download available on Android or iOS and one I highly recommend you give a chance to join you on your next trip.