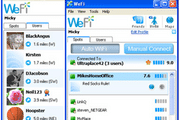 A good tool to install on your laptop when traveling across the country.
WeFi works like this: users install the WeFi client on their computer, then contribute data to the community by discovering open networks with the WeFi client. The client reports to WeFi headquarters, which then shares the open access point with other WeFi users. Aside from helping you find open hotspots, WeFi also has a social aspect that shows you where other WeFi users are.
WeFi is a free download [via Lifehacker] and combined with HotelChatter's list of the best (and worst places) to get free WiFi can ensure you'll be looking up porn writing emails to mom in no time. Avis offers wireless in their rental cars as well – just beware of 'free' access points in airports.