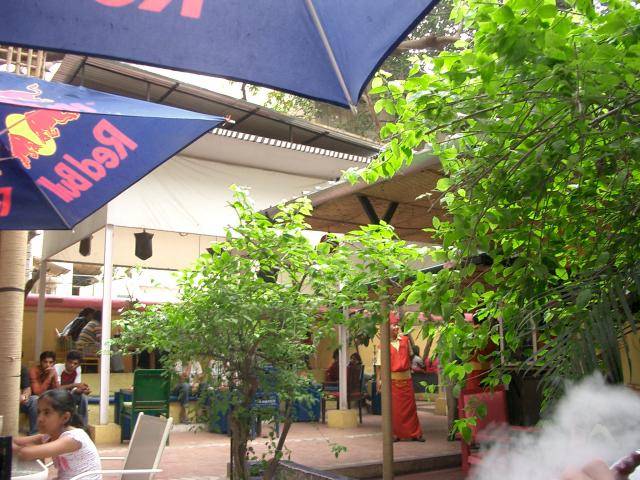 In the thick of a partially residential, semi-business area of crowded Bangalore lies Mocha Cafe. Mocha is a spacious coffee bar that serves food and hookahs with a variety of tobacco flavors. The place is frequented by mostly a younger crowed and has a good fill of people from the mid-afternoon through the evening hours.
The coffee is strong and the hookahs are new, giving a refreshing (but powerful) shot of smoke with each puff. The prices are reasonable, a cup of coffee will run you about $3 and a hookah around $8. The service is good as well – it should be since Mocha has the Indian trait of hiring about 3 times the number of employees that an American or European establishment would. Most of the staff are ethnic residents Manipur, located in the eastern reaches of India. The several waiters I spoke with said they all came to Bangalore for work, as is the case with many ethnic minorities from Manipur.
I mostly sat outside and noticed the few tourists who came in and out and the plasma TVs showing Indian music and advertising weekend shows. It's a stop that I would definitely recommend to tourists looking for a place to relax that holds both the south Indian ambiance mixed in with Western style. You can see one of the pictures I took of the terrace above – I never made it inside, but you can check out Harii's interior snapshots.
I'd like to hear from those of you who've been or are from the Bangalore area about the various places to hang out or Mocha itself. Add to the conversation in the comments!