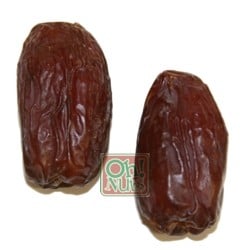 In season and on sale, you can buy Medjool dates by the pound at Oh Nuts! The Medjool dates send by Oh Nuts! are carefully sorted and only the highest quality are shipped and only 5% make the grade. Medjool dates also make a particularly good gift this time of year as many Muslims around the world us them to break their daily Ramadan fast.
The Medjool dates being offered by Oh Nuts! come in several 'grades', or quality categories that you may choose from. You can order jumbo, large, or fancy dates. The fancy dates are packages of dates mixed with other fruits and Oh Nuts! best offering. Oh Nuts! also makes it easy to place a single order from their website and send in varying quantities to a number of recipients.
Aside from being a delicious snack, Medjool dates are high in fiber, potassium, and B vitmains as well as fat free and contain no cholesterol. Oh Nuts! is also offering a 20% shipping discount for all bulk orders on Medjool dates; so purchase a total of 11 pounds or more and pay only $5.99 for standard shipping.
Medjool dates can be used for snacking, cooking, or baking and only a small part of the entire selection offered by Oh Nuts!.
This is a sponsored review of Oh Nuts!