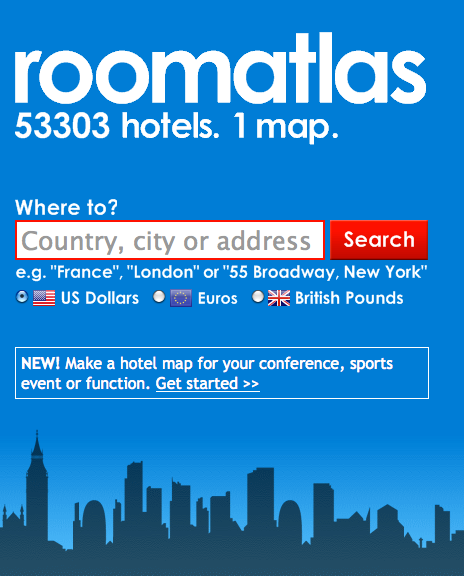 Roger Middleton is one of the brains behind RoomAtlas, a very neat Google Maps mashup I think many of you will find useful. Roger was kind enough to set aside some time to answer some questions about how and why RoomAtlas might be part of your next hotel booking plans.
What is RoomAtlas?
RoomAtlas is the easiest way to find and book the right hotel, in the right location.
We plot 53,000 hotels on Google Maps, with color-coded markers showing live room prices and availability. To make the traveller's life easier, we've built in everything needed to make the right choice – TripAdvisor reviews, Wikipedia landmarks, Google Street View, and more.
All the information you need to find the right hotel, all in one place.
How is RoomAtlas different than other online hotel locators?
We're all about location: our interactive map shows hotels on the beach, near the shops or by the airport. We don't force you to complete a form before seeing hotels, and we bring all the extra information (reviews, landmarks, photos) you might need under one roof.
Our interactive map is great for leisure travelers, and even better for business travelers – since they can enter the street address they're visiting and view all nearby hotels. No more discovering the hotel you've booked is the other end of town from your office or conference.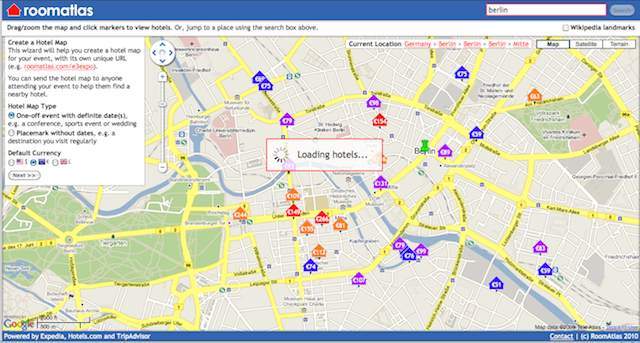 Where did the idea for RoomAtlas come from?
We felt the standard, linear hotel booking process (completing a series of drop downs, leading to a list of hotels) could be improved.
There's a huge amount of rich information out there, but until now it's been scattered across the web. One might start with Expedia, then check location on Google Maps, TripAdvisor for reviews, Wikipedia for information about the area, Street View for a walk down the street… choosing the right hotel can be a time-consuming business!
We wanted our site to make it quicker and easier, by bringing all those information sources together. Instead of pages of results, we show the full range on Google Maps – and instead of our users consulting multiple other sites, we've built them in to RoomAtlas.
Where does RoomAtlas pull its data from?
We have over 53,000 hotels on our map, drawn from Expedia and Hotels.com. They provide us with live prices and availability, and handle bookings for peace of mind. There's no premium for booking via RoomAtlas.

What's your favorite single feature of RoomAtlas?
Hard to choose, but we think our color-coded hotel markers are pretty cool. They show live prices, right in the marker, and only appear on the map if the hotel is available for the user's chosen dates. We have pins for low, medium and high priced hotels (with thresholds set by the area), and an orange pin for special offers.
When we saw them scattered across the map for the right time, we knew we had something our users would find useful.
Do you have any other upcoming projects or updates to RoomAtlas in the works?
We're always working on new additions to RoomAtlas and have a ton of exciting projects under way, including a mobile app – watch our blog for new announcements!
We've actually just launched a new feature to allow users to create their own custom hotel maps, for events like conferences, sports events and weddings. They can then send these out to attendees, with a pin at the location of the event – and all available surrounding hotels shown on the map (e.g. http://www.roomatlas.com/e3expo). We're pretty excited to see what our users do with that.
You can check out RoomAtlas for free. I'm  also excited to tell you that Roger will be getting geeky with me tomorrow and answering some questions as to how RoomAtlas works over on the Tech Guide For Travel.