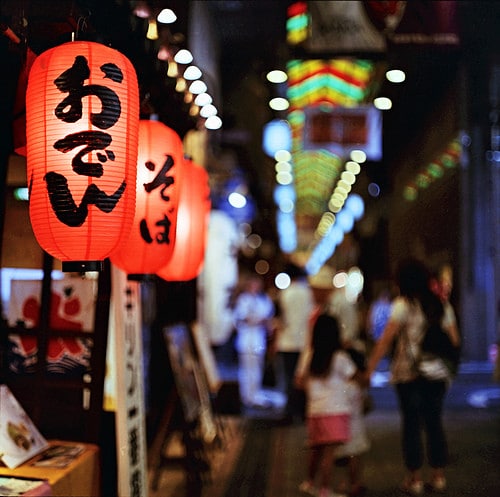 This is a guest post by Todd. A writer, blogger, and conflict resolution specialist; he blogs about his travels and adventures at Todd's Wanderings. He currently lives in Kosovo, and lived in Japan near Kyoto for over five years. He's working on his first book about walking the 900 mile Japanese Shikoku Pilgrimage, twice.
2 Days in Kyoto- Navigate the City Like a Local
Kyoto is one of those magical cities that every person should visit. However, like all proper Japanese maidens its secrets take a long time to discover. Its beauty lies in the glimpse of a geisha as she flirts around a corner, the hidden alleyway sheltering a 400 year old noodle house, or the tiny garden hidden from view but tended to as honestly as a member of the family. All of this is hidden amongst the disaster of post WWII urban planning and the waves of ugly concrete and electrical lines that spread out from city's center.
It takes commitment to experience the elegant Kyoto, time the typical visitor doesn't have. For those looking for rare glimpses that have delighted travelers for centuries here is list of my favorite places that can be experienced in any two day trip.
Walk Through Higashiyama – (Takes a full day so start early!)
The bastion of cultural protection, Higashiyama (literally "Eastern Mountains") has maintained the feeling of old Kyoto with its massive temples, narrow alleyways, quite gardens and tiled wooden houses. Start your walk towards the Buddhist temple Kyomizu-dera, where you'll find spectacular views of Kyoto from the main veranda supported by hundreds of pillars. DON'T approach the temple from the main road, instead find the small road just south and follow it through the ancient hillside cemetery, perhaps the most scenic and ignored area of Kyoto!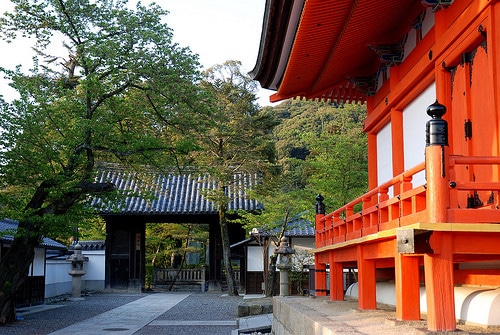 Continue your walk north and take a tea break in the traditionally restored neighborhood of Sannen-Zaka. Move on hitting any shrine or temple you see (there are tons) and you'll end up in Gion, the famous entertainment and geisha district. Remember this area as you'll want to come back in the early evening for your best chance of catching a glimpse of a geisha or maiko (apprentice geisha). Stay for dinner and drinks on Pontocho-dori, a small road where hundreds of little restaurants compete for your taste buds.
The northern section of Higashiyama starts from Kaege Station on Tozai subway line. Hit the massive, ancient and delightful Nanzen-ji. Don't forget to explore all of the sub-temples. Continue north and find your own favorites, with 2,000 temples and shrines in Kyoto I'm sure you will find something. Pass through the Tetsugaku-no-michi (path of philosophy), a pedestrian path along a canal lined with cherry blossom trees. Complete your walk at Ginkaku-ji, temple of the silver pavilion. There is no silver pavilion but it boast one the most impressive tea gardens in all of Kyoto and is often overlooked by most visitors.
Kinkaku-ji and Ryoan-ji Temples
Located near each other in Northwest Kyoto these two temples can easily be combined in a morning session, which is probably better as they can become packed with visitors quickly. Kinkaku-ji with its famed "Golden Pavilion" is an impressive ostentatious temple originally built as the retirement villa of Shogun Ashikaga Yoshimitsu. The Zen temple Ryoan-ji with its austere rock garden stands in stark contrast to affluence in the neighborhood. Arrive early before the crowds and the annoying loudspeaker.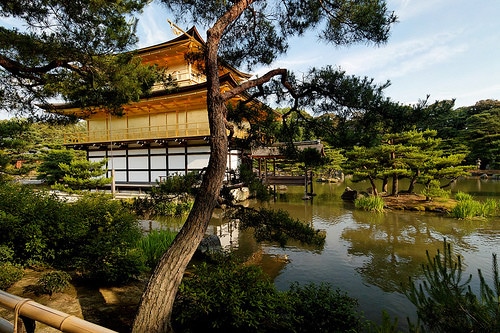 Arashiyama
Located in the western mountains of Kyoto this is a busy tourist town, but the delight is in the temples and quite areas up the hill. Experience shojin-ryori, the vegetarian cuisine developed by Zen monks, at Tenryu-ji. Explore the temple before exiting by the north gate to wander through the amazingly green bamboo forest. This is the most beautiful part of the area so walk slowly and enjoy it.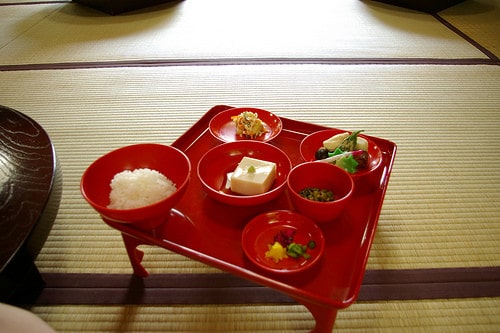 Fushimi Inari Taisha
One of the most mystical places in Kyoto, this Shinto shrine is dedicated to the god for rice and business, Inari. Located on a hillside, over 10,000 red tori gates line the paths transporting any visitor into another world. Come during the early evening just before sunset for a heightened sense of the other side as you get lost within the winding paths and statues of sly foxes, Inari's messengers. The shrine is just a 5 minute train ride from Kyoto station on the JR Nara line.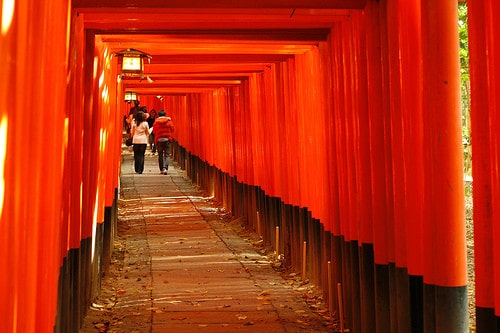 Drinks
What guide would be complete without advice on drinking and eating with the locals? There is not a huge club scene in Kyoto (head to Osaka instead) but small bars are everywhere. Visit Kiyamachi between Nijo and Sanjo for an area teeming with small bars and restaurants. No suggestions here other than find a random place and enjoy. Oh, and good luck finding your way out of the side streets afterward! If you want to drink with the younger crowd, buy yourself an oversized beer (or three) at a convenience store and head to the Sanjo bridge nearby and grab a seat on the banks of the Kamogawa river. There is sure to be some group jamming to an acoustic guitar.
Many thanks to Todd for this insightful post about Kyoto, Japan. You can read more from Todd on his blog, Todd's Wanderings and follow him on Twitter (@toddwassel).
[photos by: rawheadrex (Kyoyo market), Jaime Perez (Kyomizu-dera), syvwich (Kinkaku-ji), eyspahn (shojin-ryori), Paco Alcantara (crimson paths)]