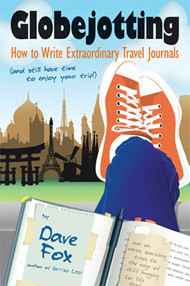 Author Dave Fox, the founder of Globejotter Tours, whom I interviewed back in April recently sent me a copy of his latest book Globejotting: How To Write Extraordinary Travel Journals. A book that will resonate with travelers, writers, and bloggers, Globejotting is an entertaining and overall fantastic read. I'll send my copy to the first person to leave a comment asking for it on this post.
Also, if you'd like to join Dave on his next tour to Vietnam this October and happen to mention you heard about it from foXnoMad, you'll receive a $300 discount.
Most people would probably cringe at the idea of reading a book about travel journaling, let alone maintain a travel journal themselves. Writing when you're on "vacation" seems a waste of time, especially when you think a digital camera can do what a journal can in half the time. Dave Fox does a wonderful job to show you the depth that even a few words can bring years after a trip and how to record them effectively in short bursts. Dave teaches a number of techniques, like speed journaling, that will allow you to record your thoughts in minutes for later reconstruction.
Learning Through Example
What really makes Globejotting shine are the numerous examples throughout the book of Dave's own private travel journals. Born from small instances while traveling and kept alive in a few scribbled words, these are the types of reminisces that a digital photo couldn't provide. Dave argues a travel journal can help propel your inner journey, even when you've physically stopped traveling.
Avoiding The Typical Pitfalls
Dave's writing is humorous and cuts right to the heart of why many people never write about their travels or buy a travel journal only to abandon it after a few sentences. Bland writing ("the Eiffel Tower was amazing"), stressing out to write a masterpiece with each entry, or fears that someone else may read what you've written ("found on your corpse after a horrible plane crash, what will your family think!") may hold you back but Dave covers those deterrents and more. You'll find Globejotting a surprisingly entertaining read, available on Amazon for around $10.