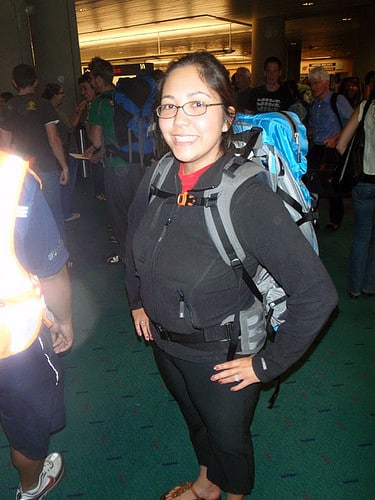 Any good security system is layered, with many buffers against complete disaster. You may think of backpack theft as all or nothing when in fact your biggest threat are stealthy grabs when you're not around to do anything about it. Instead of giving in, turn your backpack into a minefield of traps, tricks, and false hopes for even the most determined thieves.
Time Is On Your Side
One of the biggest advantages travelers typically have over opportunistic thieves is time. You can carefully craft and plan out a strategy against dishonest crooks while they're the ones usually racing against a clock to get as much as they can without being noticed or caught. That's where you'll begin focusing your backpack security system – by increasing the amount of time anyone would need to get in and take your most valuable belongings.
Start With Basics
A small lock on closing your zippers together is a good place to start anytime you leave your bag by itself. Combination luggage locks are easier to manage since you don't have physical keys to lose and are a good deterrent in luggage rooms common to hostels or hotel rooms where you aren't sure about the staff. While it's not recommended to lock your luggage if you check your bags due to security checks, keeping the zippers placed away from the 'normal' spots of at the edges or between corners can waste a few more seconds for a thief who only has a moment to make their move.

These products can make your bags very conspicuous however are a powerful deterrent in a hostel room full of completely unlocked and unzipped bags. If you'd rather not travel with either of these, make sure you store your most valuable electronics and travel document (e.g. passport) in a locker which most hotels and hostels offer. (Remember to bring your own lock, most hostels don't provide them or will overcharge you to buy one.)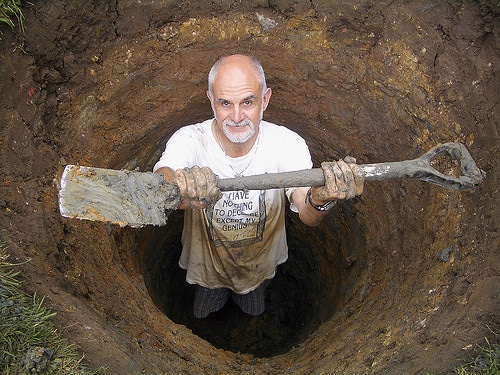 Pack Your Electronics Deep When Checking In

You'll want to keep any electronics away from the top of your bags, where they can be easily felt by a crook who might be rummaging around several bags. Place your valuable tech items deep within your bag, but disperse them throughout as well while avoiding the outer layer. For instance you could pack your iPod in a sock, while keeping your Kindle nicely folded inside a pair of jeans.
Keep It To Your Carry-On – Keep a carry-on bag with you so you don't have to check in any valuables (I've had them stolen from there before). Electronics also tend to be heavy and it's a great way to avoid luggage fees. If the thought of traveling with two bags makes you queasy, check out the REI Travel Zip or something similar.
Excuse Me, Do You Have Lockers? – First of all when booking a hostel or hotel, make sure to check if they have lockers, what size they are, and where they are located. If there is any ambiguity, email or call them to ask. Ideally this is where you want to keep your valuables when you're settled in somewhere for a few days.
Spread Out Your Cash – Keeping your items and money separately won't save all of your stuff but might be enough to keep at least some of your valuables safe. Hide your money in various pockets, some on your person, maybe a bit in your toiletries pouch but not all in the same place.
When looking for a hostel, I'd consider a locker to be a strong deciding factor over another without one of a similar price. Some hostels also boast lockers but don't mention that they're not big enough to fit a laptop. Walking around with your valuables in your day pack is both cumbersome and aside from the increased threat of theft, might end up with you banging around your hard drive into an early grave.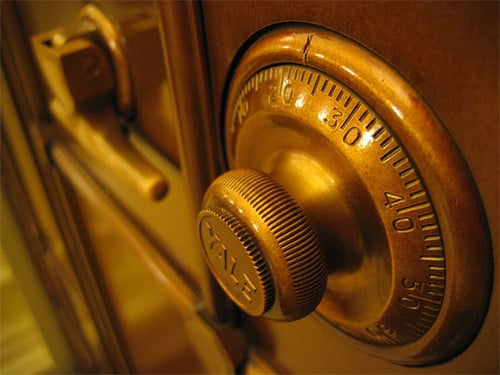 Covering Your Bases And Maintaining A Security System For The Long Run
Much like when you start out packing, your security system is likely to be at its best when you're first heading out on a trip. After a prolonged vacation or when shifting locales it's a breeze to take it easy, be negligent about locking up your stuff and all of the other little tricks part of your personal travel security plan.
Know Your Essentials – Your passport, cash, and and credit cards are essential when traveling and you should make sure you always have access to some bare minimum of funds. Do not neglect to keep these things secure. I'd also add any electronics that are too expensive or costly to easily replace (i.e. laptop if you work from the road).
Automate It – Stay consistent with how you pack your bag so it becomes second nature. Don't try to come up with something even more intricate every time you pack. Come up with a plan and tweak it but trying to reinvent it every time will only leave you frustrated.
Have A Backup Plan – Encrypt your hard drive, save your digital photos from crooks, and use online backup for your data.
Take Your Time – Not only will you be the least annoying person in any hostel dorm, packing ahead of time ensures you won't rush through and neglect your backpack security system.
Layers Upon Layers – Jodi Ettenberg (Legal Nomads) has some excellent safety advice which I highly recommend reading in this interview with her on Solo Friendly.
Adding a few seconds of effort to any snoops' schedule may be all you need to deter or steal an opportunity from a thief. For those times when it's just not enough however, finding that $50 you tucked away in your dirty socks at the bottom of your backpack will make you realize a backpack security system wasn't so crazy after all.
[photos by: stacya (female backpacker), gsag (zipper), colijay72 (man digging hole), rpongsaj (locked safe)]