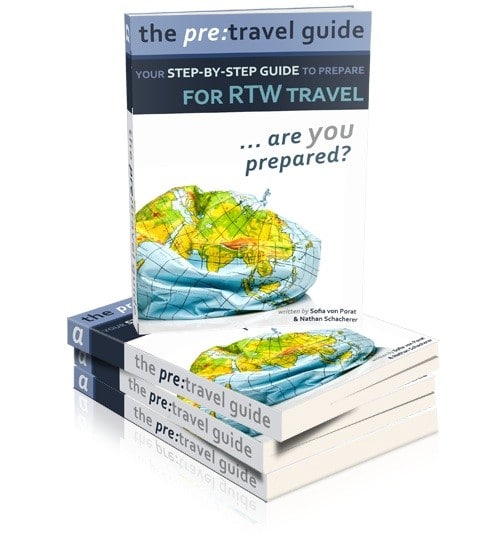 Nathan Schacherer and Sofia von Porat, who blog at As We Travel, recently released a round-the-world (RTW) trip planning eBook. Titled the Pre-Travel Guide, the couple sent me a copy to review. It aims to be a comprehensive handbook to helping you avoid many of the mistakes many long-term travelers make when starting out on their extended journeys.
Planning a trip of two weeks can be a daunting task for some folks and even if it isn't, the preparations required for a much longer RTW trip (of months and months) can easily present challenges. A series of shorter trips doesn't do a good job of preparing you for travels to multiple countries on the same leg within a year. That's the reason Sofia and Nathan put together the Pre-Travel Guide; it's based on their 8-month RTW trip across much of the planet and aims to steer you clear of the mistakes and scams they came across.
Breaking Down The Specifics
The eBook starts off slowly with a general introduction to travel and some pages dedicated to motivating you to take an RTW. Where the eBook shines however is in the specific information it begins to trickle from the first chapter on. Particulars like breakdowns of expected costs in various regions of the world are extremely useful for long-term travel planning since budget is arguably the biggest planning obstacle.
The eBook is reminiscent of Nomadic Matt's Secrets To Successful World Travel (my review) but written at a faster pace. Throughout the Pre-Travel Guide's elegantly designed pages are useful links to booking engines, planning tools, and online travel contacts. (Click-able hyperlinks within the text would be a great improvement however.) It's this type of information I wish the Pre-Travel Guide focused more on. The Pre-Travel Guide tries to cover so much that at times it loses its focus on the nitty-gritty details that can really help you organize a complex trip.
Reflections On The Pre-Travel Guide
There is a lot of good information in the Pre-Travel Guide but you'll have to dig a bit for it. One thing the Pre-Travel Guide can show you though is all of the stuff you haven't considered planning for and maybe should. Within its 103 pages you'll come across more ways (other than hostels) to find cheap accommodations, keep your body fit, and obtain the trickier tourist visas out there. The Pre-Travel Guide is available to download for $9.99; you can also keep up with Nathan and Sofia on their travel blog, As We Travel.