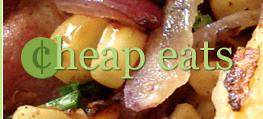 Frequent travelers squeeze a variety of nutritional snacks and beverages into your budget with advice from Cheap Eats. The site offers advice on where to eat in certain cities, making leftovers last, and general tips for nutritional frugality.
Cheap Eats appeals to the thrifty, so if you're looking for gourmet grub look elsewhere. Good snacks and drinks are travel essentials and important to staying fit on the road. Once you get to your destination, check out the 3 dollars or less recipes.
Stock up before your next trip with some decent bling-saving Cheap Eats.