You can set up a virtual office anywhere in the world and maintain it like a professional IT department and become a location independent worker. Whether you plan on doing freelance work, are traveling on business, or trying to make money with your travel blog, your entire mobile office can fit into your backpack while giving you everything a fancy corporate IT department can.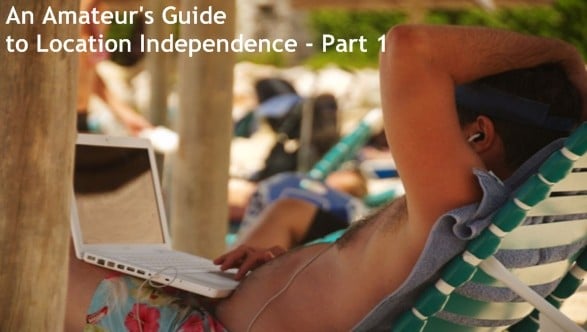 Being your own location independent IT department includes getting the right hardware and software, staying connected, and keeping things going in case of a disaster. On a very small travelers budget you can do all of this and more.
Hardware
Depending on what kind of work you do your needs will vary, but for the majority of digital nomads you don't need a lot of computing power or expensive devices to work and get paid while you travel. These are the bare bones you'll need for your mobile office.
Essentials
Laptop – An obvious and essential component of any location independent office. (As for what laptop to buy it varies based on your budget and situation. The comments are a good place to ask other travelers about their recommendations.)
A Cheap Cell Phone – Get yourself the cheapest Nokia you can find it and learn how to unlock it.
Long Range USB Antenna – Extend the wi-fi range of your laptop to snag more wireless networks (that are hopefully open). These antennas are a good way to bum wi-fi signals from the road.
USB Drive – The biggest capacity you can afford – good for quick backups, running applications, and keeping personal data secure.
I'd also consider a webcam to be close to essential for your mobile office. It helps business when your clients can not only hear your voice but see you from time to time. Office morale (aka. your morale) is also important and a webcam can keep your family and friends close, even when you're not. (Just make sure to get your mom one too.)
Software
I've written previously about the essential software tools for digital nomads and 12 applications that fit on a USB drive for travelers. There are a few other free software tools that will help you get your work done.
Writing

Openoffice.org – This suite similar to Microsoft's Office has a text editor (like Word), versatile spreadsheet program (like Excel), and presentation software (like PowerPoint) is absolutely free.
Thunderbird – Mozilla's answer to Microsoft Outlook, Thunderbird is free and can be used to set up multiple email accounts. Gmail can also be used to create temporary email travel accounts over a secured channel in 5 easy steps.

Photo Editing
Paint.NET – Instead of shelling out a ton of cash on Adobe's Photoshop, this free photo editing software does a bit more than the basic paint program that comes with Windows. Paint is good enough for amateur photo editing and is very easy to use.
GIMP – More powerful than Paint.NET this free program comes in a portable version that you can run from your USB drive.
Artweaver – Admittedly, once you've used Photoshop for any length of time it's hard to get used to a new program. Artweaver is free and looks and feels a lot like Photoshop.
Bootleg Software
While I don't advocate purchasing bootleg or illegal software which can be found in many countries quite easily, many of you do and will anyway. Protect your laptop from viruses, malicious software, and other nasty programs that often accompany pirated programs and DVDs by learning about virtual machines.
This basic hardware and software will get your mobile office up and running, connected, and working with a few downloads.
Tomorrow in Part 2 I'll show you what virtual machines are and how to use them to protect yourself from bootleg software and create virtual environments to get more work done. I'll also share some free and easy ways to backup your data in a safe location.
[photos by: zzathras777, alex-s]