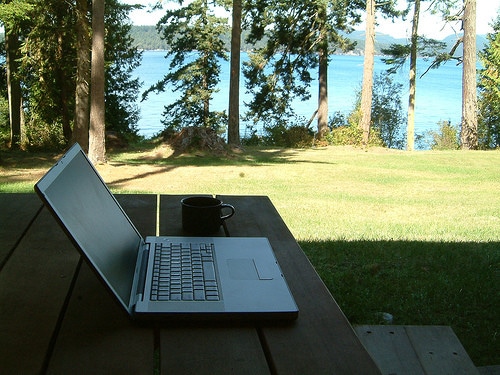 For the last week or so I've been in the middle of a move from one home to another and been having trouble setting up Internet service. As I shuttle from libraries, friend's houses, and parking lots looking for a solid connection it occurred to me this is what many of us experience when traveling.
Luckily there are a number of free ways to steal borrow Internet connections and find Wi-Fi signals, without jeopardizing your computer's safety.
Where To Begin
Wireless Internet signals can be found in many urban areas but one place you'll want to begin looking is the airport. First check WiFinder and WeFi too see if there are any free and open Wi-Fi connections at the airport or close by. If not, download the free NetStumbler to your laptop or iPod Touch/iPhone and look for hidden internal airline networks.
Generally you'll be able to pick up at least one connection using these methods and several computer-to-computer connections, which you should never use.
If you are desperate it may be possible to crack a WEP or WAP encrypted wireless Internet connection. It is illegal, but may come in handy if you're crashing at your friend's place and they don't remember their passphrase. This Wiki article has a technical walk through of the procedure.
Now You're Connected – Protect Yourself
Whenever you are connected to an unfamiliar wireless network your computer and data are at risk from being read or corrupted by anyone listening in. (The connection is all over the air, remember?) Download HotSpot Shield, available for Windows and Mac. Not only will it protect the data you transmit over the Wi-Fi connection, you'll be able to get around regional blocks and watch your favorite online TV shows as well.
Be cautious using FTP if you have a travel blog you'll be updating. Consider Single Wrench for SFTP and encrypt your files to and from the server.
There are a number of other ways to find Wi-Fi connections on the road and protect your privacy, these are just some of the basics. If you're content with surfing the web and emailing your friends and family at Internet cafes take precautions to keep your online accounts safe with these 12 applications you can run from a USB drive.
US citizens returning home, remember your last hurdle – the Transportation Security Administration – that can confiscate your laptop indefinitely for no reason. Use these effective and free ways to keep your laptop data safe, which will also come in handy if your laptop is ever stolen.
[photo by: Jeff Henshaw]