This is the second part of 5 in a series of backpacking basics. You can catch up with Part 1 (What Is Backpacking?), Part 3 (What Is A Hostel?), Part 4 (Where To Start Backpacking), and Part 5 (The Backpacker's Dictionary) if you missed them.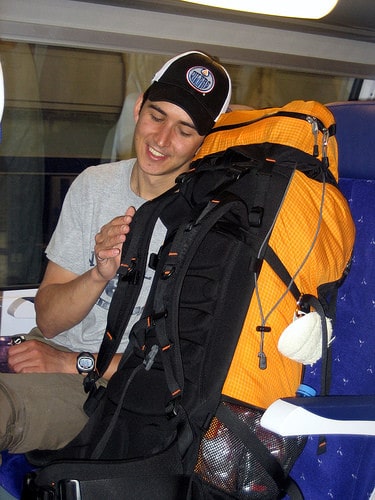 In Part 1 of backpacking basics you found out the basic definition of backpacking and that it revolved around one central item – the backpack. Ironically, the backpack is often the last thing new backpackers think about after making trip plans, booking tickets, and getting ready for their first trip.
Getting the right backpack for your next trip is easy but finding the best backpack for your next 10 trips is much more difficult. Choosing the right backpack is a very personal decision and more of an art than a science. You can find that right pack for you however by taking a look at your travels to come and forgetting about your very next plane ride.
40L, 50L, 65L…Size In Liters
One of the basic categories of backpack size are measured in liters – a rough guide of the volume a backpack can carry. Backpacks ranging from 40-65L are generally a good size to consider if you're only traveling with one bag. While you're researching online you should read the specs for any backpack as the actual volume may vary (even if it's labeled a 50L, it could be bigger, smaller, or not include one of the detachable pockets).
Most backpacks measured in liters also come in sizes, small, medium, and large. These different sizes are for people of different heights and weights so it's important to try on a new backpack before buying it. Most generally come with guides that will let you know the right size based on how tall you are.
Many of the 50L and under backpacks can be stored on planes as carry-on luggage which might save you on airline fees.
Get a backpack that can hold a small day pack so you don't have to lug around your main backpack all the time. Some backpacks have detachable (~10L) daypacks you can zip right off.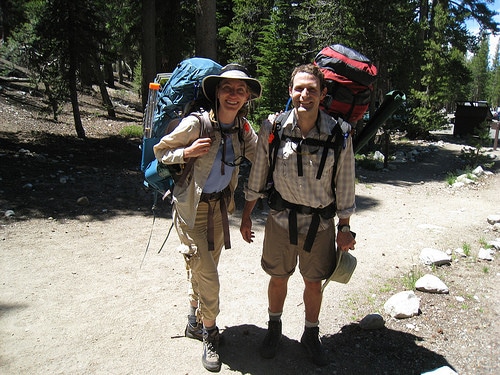 Your Travel Pattern

Each individual trip you take is one in a lifetime of travels. Begin your quest to find the right backpack by thinking about how you've traveled in the last 3 trips you've taken (short or long) and the next three you're planning on or would like to take. Did you pack light or were you always 10 pair of underwear too many? A good way to give yourself a reality check is to ask anyone you traveled with or saw you pack.
Sizing is important because getting a pack that's too large or small can end up making your back or shoulders sore after a few hours of walking.
I've found that if you're in doubt between two sizes of backpack, go with the smaller one. You'll be forced to pack more efficiently – buy a larger backpack and you'll inevitably fill it up with more stuff (and weight).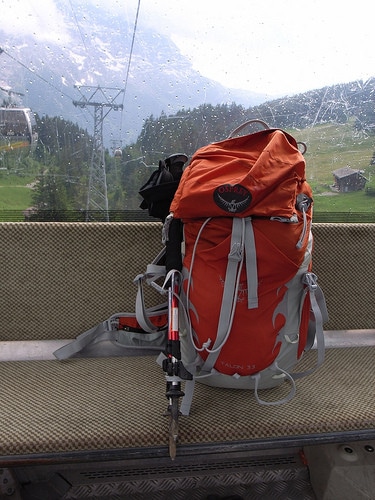 Important Things To Keep In Mind When Picking The Right Backpack
Reliability – Read online reviews, ask your fellow travelers, and hold the backpack you want to buy and take a look at the seams. You don't want to have to replace your backpack after a few trips or loose a strap in the middle of the Thai jungle.
Front Loading – Many backpacks are 'top loading' meaning you pack them from an opening in the top of the pack. They are generally a bit lighter but you're better off getting a top and front (or side) loading backpack for easy access.
Color – I prefer backpacks that can look dirty easily and when brand new don't sparkle as such. The more ordinary your backpack looks the less likely it will interest a potential thief or hostel opportunist.
Backpack Recommendations
For US residents REI is an excellent resource to try out many of the major backpack brands such as Osprey, Gregory, and Kelty. REI themselves make excellent backpacks and I'm a particular fan of the REI Ridgeline 65L backpack. Some other good backpacks to consider are:
Nomadic Matt also has good advice on choosing the right backpack with some information about internal frames and padding. Selecting the right backpack for you can take a bit of time so start looking well before your trip so you don't make a rush decision and end up with something that doesn't suit you or last.
Selecting the right backpack can be fun and frustrating at the same time but once you find your pack you'll know it. Tomorrow in Part 3 I'll introduce you to anothe backpacking basic, the hostel.
[photos by: Canadian Veggie, Eliel, andihefti]