This is the third part of 5 in a series of backpacking basics. You can catch up with Part 1 (What Is Backpacking?), Part 2 (Picking The Right Backpack), Part 3 (What Is A Hostel?), Part 4 (Where To Start Backpacking), and Part 5 (The Backpacker's Dictionary) if you missed them.

Almost an integral part of backpacking and the culture behind it is the hostel. A hostel is basically a low budget lodging option, generally where you share a room with 4-12 people. Hostels are plentiful in many cities around the world and geared towards backpackers offering things that most hotels charge extra for like wireless Internet access and last minute booking.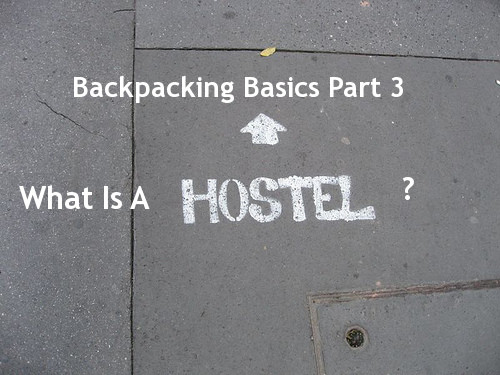 Why A Hostel?
Hostel rooms in Europe, for example, run about 10-15 Euros a night compared to 80 for a hotel. Most people choose to stay in a hostel for the lower prices, community atmosphere, and their unique character. Hostels are where most backpackers stay if they're booking accommodations and they're a great way to meet other people of like minds.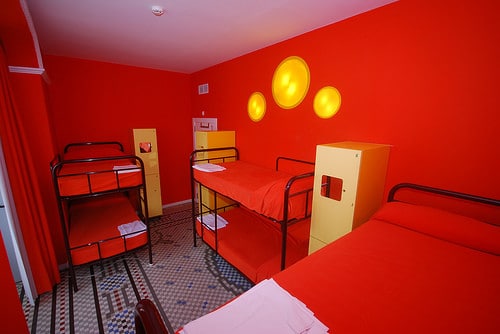 Most Hostels Have…

Hostels, much like hotels, vary quite a bit in their offerings but here are some pretty consistent things you'll find across most.
Sharing a Room and Bathrooms – Many hostels do also have private rooms for one or two people for a bit more cost but almost always less than a hotel.
Booking A Bed, Not A Room – When you book a hostel, typically you're reserving a bed not a room. That means if you'll be traveling in a group and want to stay with your friends, depending on how the beds are filled you might not be in the same room. (It's rare this happens in groups of 4 or less.)
A Kitchen (For You To Use) – It's cheaper and healthier to go grocery shopping and cook at the hostel. Most also have a fridge and places to store your extra food.
Quiet Hours – You might be worried about sleeping in a room with 12 other people but most hostels implement "quiet hours" between reasonable hours of 10pm and 8am. Here's a guide to sleeping in hostels.
Free Wi-Fi – The access point is usually open and you don't have to register or jump through hoops to get online. That makes it much easier to use wi-fi with your mobile device or iPhone without breaking the bank.
Tours and Local Travel Information – You can stay in a hostel and still take an organized tour if you like and often the prices are lower than booking elsewhere since many hostels work with local vendors.
Helpful (Understanding) Staff – People working at hostels know many of their customers are on a very tight budget and will let you know where to eat, drink, and entertain yourself for less.
Many people who've never stayed in a hostel have a number of misconceptions and one of them is that all the people who stay in hostels are seasoned travelers who never do any 'regular' travel stuff. In a lot of ways staying in a hostel isn't all that different from staying in a hotel.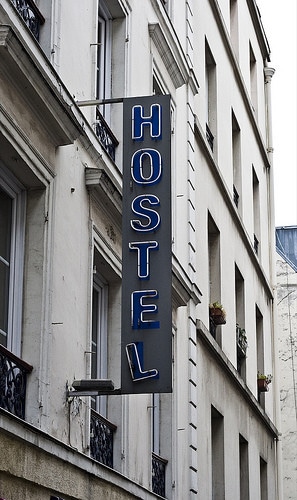 What Hostels Are Not
Quite a few people are afraid to stay in hostels due to several misconceptions about them. Most of them revolve around the idea that hostels are huge parties full of 20 year old drunk backpackers. While there are definitely "party hostels" and you can easily find out which ones they are by reading the reviews on the site you're booking through.
One thing to remember is there are a variety of hostels – you can find the right one for you.
How To Book A Hostel
There are two major websites to search when looking for hostels before your next trip. It's not all that different from booking a hotel on Kayak, Travelocity, or any other online travel agent.
Once you do find a hostel you can also try Googling them to see if they've got a website and perhaps some special offers for particular dates or if you book directly through them.
The Easy Part
After the first time booking a hostel takes about 5 minutes online. It doesn't take extensive research and you can get most of the information you need by reading the reviews of the hostel before booking or on sites like Hostelz. Finally, just like anything else, if you're not happy or satisfied you can ask it to be fixed or for a refund. In the end hostels are businesses and a more normal experience than most imagine them to be.
Tomorrow in Part 4 we'll get to the fun part of backpacking and some of the best places to start.
[photos by: mikeleeorg, nest hostels valencia, Dolarz]