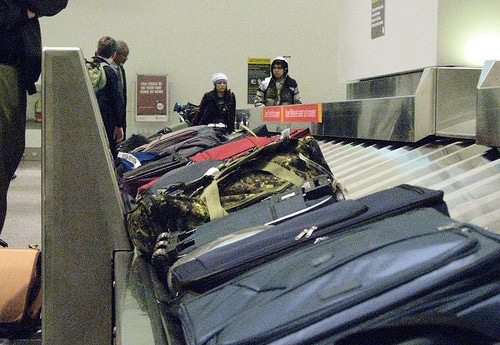 The travel gear, backpacks, and luggage all of you travel with is as diverse as each of us. I was a bit surprised initially at the variety of the responses when I asked, what type of luggage do you travel with, but after reading them over I realized I shouldn't have been at all. Whether you're looking to pick the right backpack or choose the right piece of luggage, the assorted opinions and recommendations of your fellow travelers should have you off to a good start.
Daniel: "Kelty — FTW! I have a Kelty sling-style day pack that's six years old now. And it looks almost brand new. Love their gear. Very well made. Would wholeheartedly recommend it to anyone!"
Mummy_T: "Dodgy, but hard-wearing "North Face" 70l backpack I bought in Thailand, with zip-on, zip-off 20l day pack. My son has a Deuter Fox 30."
Winnie: "About 15 years ago I bought an MEC Carry-on Travel Pack. It's not the same as the one they have now with elastic cords and all kinds of gizmos – just a simple big pocket and a little pocket. It holds 30L, has a handle, shoulder strap and backpack straps."
Erin: "We have left the UK to travel indefinitely as digital nomads and manage to travel hand luggage only. I have a 30 liter Vango transit backpack and my partner Simon has a North Face 40 liter Overhaul backpack. We were looking for bags that zip all around the sides for easy access and so we can lock them. Simon also carries a Martin backpacker travel guitar. We don't have a separate day pack."
Donna Hull: "Rolling duffel bags (both carry-on size and checked size) are great. On a trip to Hawaii, I packed snorkeling gear (for 2) into the large rolling duffel bag. One tip for staying organized with a rolling duffel bag, organize each day's outfit in a large plastic bag. Clothes won't get as wrinkled and it will be easy to pull out exactly what you need."
Akila: "Victorinox rolling backpacks. Love, love, love them. We use them rolling about 95% of the time but, occasionally, we convert them into backpacks if need be."
Ayngelina: "I have a 60L MEC backpack and I carry a small shoulder bag – no turtling for me. But if I had to do it again I would have picked 45L and just been choosier about what I packed."
Ant Stone: "I've used a Karrimor Global 70-90 backpack for the past 7 years and it's still going strong. I've never extended it to the 90 end, it's like a mental block — I know I have it, but don't want to jinx the 'new' extension."
Shannon OD: "My faithful pack is a 55L Eagle Creek Meridian and my favorite, favorite part of the backpack (and all of E.Creek's backpacks I believe) is that it is front loading. I have watched so many travelers struggle with the rucksack style bags and love the huge U-shaped zipper."
John Bardos: "I have been using a hard shell Samsonite suitcase for the last 6 years and love it. My wife and I just bought a second one after lugging a bag without wheels around Montreal for a couple of hours. They are fantastic for traveling for many reasons."
This is just a small sampling from the long list of comments, many with useful details about these bags. I encourage you to browse through the comments – you might find luggage you never knew existed, and learn a bit more about what these folks are carrying around as well. Once decide on a piece of luggage however, it's a good idea to snap a digital picture of it in case it's lost so you don't have to end up buying it back.
[photos by: puregin (airport luggage carousel), scottpowerz (black rolling travel bags), Christopher Isherwood (rolling backpack)]