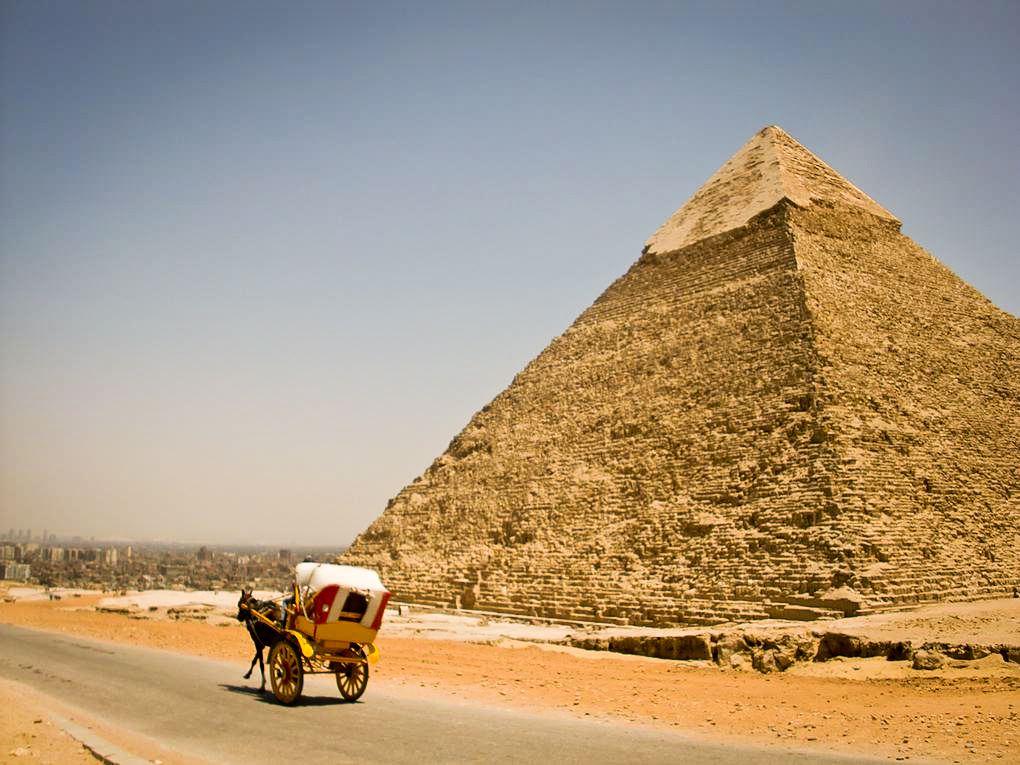 Wednesday afternoon on a hot day in late May is is a quiet time to visit the Great Pyramids which sits practically right in the city of Giza (not Cairo, though they're very close). That particular day though, 4 months after Egypt's revolution, was an especially slow one. The Great Pyramids, and Sphinx nearby, are notoriously tourist-tricky places to visit. They're a healthy breeding ground for scams new and old; designed to pick off the uninitiated lost in their gazes of the only remaining ancient Wonders of the World.
Travelers arriving on their own, walking up to the Pyramids will find people on the street trying to lead you left, right, and any other direction aside from the correct one. This popular trick is found many places, Marrakesh for one, and is easily avoidable by walking up the hill toward the large, unmistakable rock triangles right in front of you. Pay your 60 Egyptian pounds (~$10) to enter and ignore all of the "tour guides" at the entrance. Also, it's especially important to hold on to your ticket from a few grabbing hands and pass directly through the entrance gate.
It was within all of this commotion to enter I assumed I'd have to run the gauntlet once inside. Yet my entrance seemed to catch everyone off guard. Finally touts baking in the hot Egyptian sun, sitting along the asphalt roads, began approaching me one by one. (There seems to be a tout hierarchy based on age; the older ones get access to the fresh tourist meat.) A few got their chance and gave up one by one (no camel rides for me, thanks) and the rest really looked quite…bored.
The camel, horse, and carriage touts also seemed noticeably subdued in their advances. I'm told part of the reason is due to the local backlash against them. Many of the touts, out of work during the revolution, were allegedly paid by government officials to incite violent. Scenes of rioters on camel and horseback riding through the crowds demonstrating in Cairo's Tahrir Square were still fresh at the time.
I strolled around the Great Pyramids for nearly 2 hours before coming upon any other foreigners, vividly demonstrating how badly tourism has been hurt in Egypt since January 25th, which has seen a drop of 35% over the same time last year.
You can see more photos from the Great Pyramids in my gallery here.