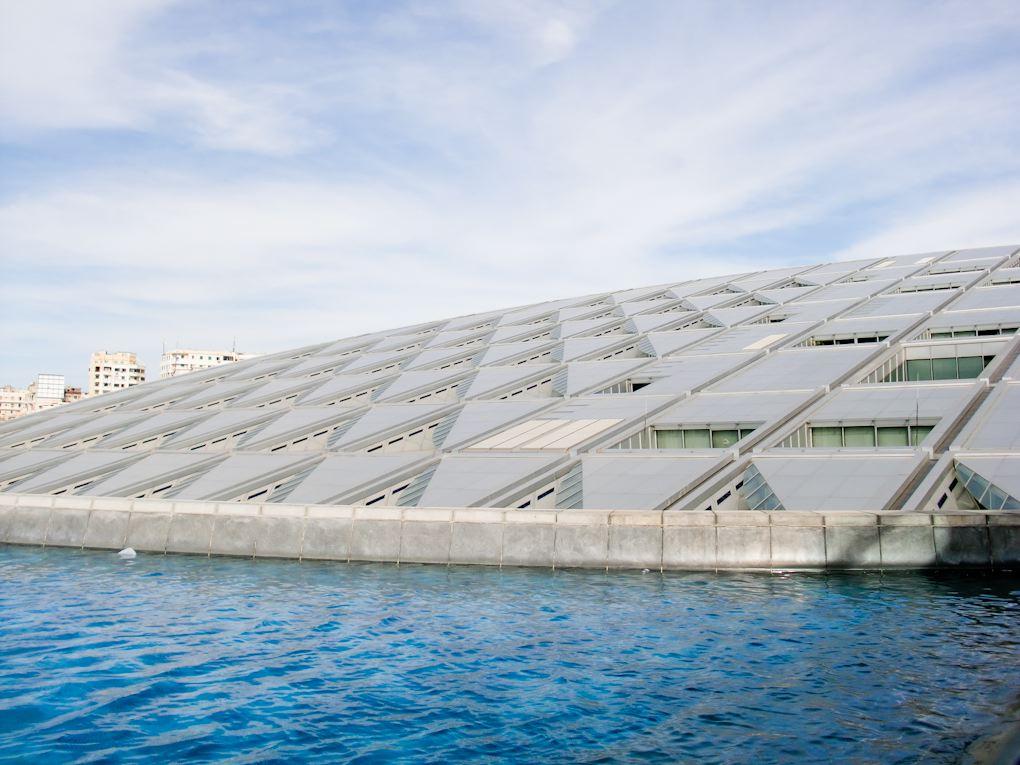 I'm not sure why Alexandria, Egypt has such a generally understated reputation among Egyptians and the Bibliotheca Alexandrina (Library of Alexandria) is often the center of that blase attitude. The Bibliotheca Alexandrina is much more than a mere book storage facility, it is a large cultural center that holds more than 1 million books, a planetarium, and 4 museums – just to name a few of its features. Of those, one not to miss is the Manuscripts Museum located on the lower floor. (I was incredibly fortunate to get a grand tour of the Bibliotheca Alexandrina from several of my readers who met up with me in Alexandria, one of whom happens to work there.) The Bibliotheca Alexandrina is the most popular site for tourists to visit in the city and a modern monument to the Ancient Library of Alexandria; the largest in the world until 30BC.
The Bibliotheca Alexandrina is actually built partially on the site of the Ancient Library of Alexandria, remnants of which were found in 2004. The center of some Roman drama near the height of that empire's expansion, it has been suggested that much of the ancient library was destroyed by a fire Julius Caesar set during the Alexandrian War – devastating Cleopatra. Mark Antony, being the romantic he was, presented Cleopatra with thousands of books to replace those lost in the fire. When she asked him where they came from, I wonder if he mentioned it was from stealing the collection of the world's second biggest library at the time (Pergamon) in modern day Turkey, or if its just the thought that counts.
The entire Bibliotheca Alexandrina complex is distinctly Scandinavian in design, with rounded walls and plentiful open spaces revealing its Norwegian creators. It can be easy to get dissuaded from visiting Alexandria when you hear the common line that the library is the only thing worth seeing in town. The term "library" deceptively hides the extent of how much incredible cultural wealth there is in the Bibliotheca Alexandrina and how visually engaging its design is. Aside from its impressive 11 levels of physical space, the Bibliotheca Alexandrina also acts as the only backup of the Internet Archive – which contains collection of all the websites ever created.
You can see more of pictures from Alexandria and reasons to visit in my photo album here.