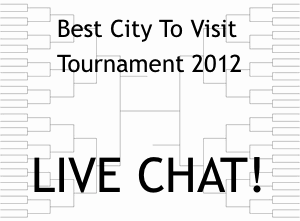 Welcome everyone to this month's live chat. March is the start of an exciting month around here and if you've entered or voted in The Best City To Visit 2012 Travel Tournament preliminary round, I've got the match ups ready just for you. Scroll down to the chat to get a glimpse of the brackets. I'll be breaking down the competing cities plus giving my predictions along with Wandering Earl and Barry and Julia who write Turkey's For Life.
Click here to jump right into the chat happening for the next 3 hours!

The Live Chat is only open from 2pm-5pm US EST; 7pm-midnight London GMT). Join me next month, Tuesday April 3rd!

They've both got entries in this year's contest, Ljubljana, Slovenia and Fethiye, Turkey respectively and I can feel the competition building already. Manchester and London have already taken a few shots at each other and 3 countries are already facing off in the first round. Finally, I'll be announcing a few changes to the chat format and more. Click here to jump into the chat!