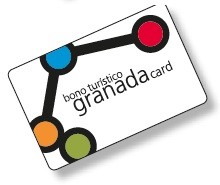 Several cities around the world, particularly in western Europe, have discount tourist cards that give you access to several of the major local sites for a flat fee. Often they're a balance between savings and time – that is, you get admission to a number of interesting places but limited time to take advantage of them all. It's those practical considerations that make or break a discount card.
So today let's take a look at the Granada Card, specifically the 3-day pass, which Turismo Ciudad de Granada was kind enough to provide me during my visit to Granada, Spain last fall.
What Is A Granada Card And What Does It Get You?
As I mentioned above, basically the Granada Card (there are 3 and 5-day varieties) allows you access to Granada's major touristic sites, including the popular Alhambra. The 3-day card costs 25 Euros and the 5-day is 30 Euros. They both get you into the same sites: the aforementioned Alhambra, Granada Cathedral, Royal Chapel, Monastery of Cartuja, Monastery of San Jeronimo and Science Park Museum.
The primary difference between the 3 and 5-day cards, aside from 5 Euros, is that the 5-day card gets you 9 free rides on the city bus network and the 3-day card only 5. (I should also mention those of you traveling with kids can get either card for your children for 9 Euros.)
Breaking Down The Costs – Granada Card vs. Purchasing Tickets Individually
Let's first begin by looking at the costs of a Granada Card to see if it makes sense for your budget in the first place to buy one. Assuming you intend on visiting all of the sites it allows you in, here's a breakdown of the individual costs:
Alhambra: 14 Euros
Science Park Museum: 6 Euros (2.5 Euro for Planetarium entry)
Monastery of Cartuja: 4 Euros
Granada Cathedral: 4 Euros
Royal Chapel: 4 Euros
Monastery of San Jeronimo: 4 Euros
Total: 36 Euros (vs. 25 Euros for the 3-day Granada Card)

This of course doesn't include the bus fares that come complimentary with the card (a single ride is around 1.25 Euro) and the added perk of being able to skip to the head of most lines.
Are Visiting That Many Sites Practical?
In case you don't have 96 hours in Granada, I would organize the sites in this order: Alhambra (one day), Science Park Museum, Monastery of Cartuja (same day), and Granada Cathedral, Royal Chapel, and Monastery of San Jeronimo (all same day). It can be done I know because I did so, despite my habit of tardiness and fondness of consuming alcohol with my Spanish friends. The only site that absolutely requires you to be on time (and early) is the Alhambra. I met many travelers at my hostel who missed out on a visit because they neglected to get there on time.
It's an easy mistake to make as southern Spaniards are hardly the most punctual people on the planet but consider the Alhambra an exception to the rule. (When meeting people in Spain, generously pad about 30 minutes to any agreed upon rendezvous time. And the same if you're ever meeting me anywhere.)
How To Get A Granada Card
There are a few ways and locations where you can get a Granada Card. The easiest way is to swing by the Granada City Hall in Plaza del Carmen (pictured above – here's a map) the day before you plan to start using it. (Say hi to them from me while you're there.) You can also pick one up upon entry into the Alhambra or the Science Park Museum.
One Of The Few Practical Buy-One-Get Many Cards In Europe
You may be wondering why I'm writing about the Granada Card, whether I was paid to do so, or if getting one free influenced my take on things. The answer is it's one of the few cards in Europe that saves you money and can be practically used within the time allotted. Oh, and no I wasn't paid and no, money isn't one of the substances that influences my writing. (There are plenty others I'll leave to your imagination.)
The short truth is, many of these cards like the Dublin Pass, require you to visit countless sights from morning until evening so you're doing nothing but. The Granada Card is a nice blend of price and pace; quite appropriate for this region of Spain.