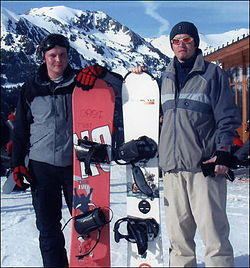 The temperatures across the US and Europe have been hitting record highs, but scoping a place to hit the slopes is never too early and there are a few good websites that can help.
OnTheSnow.com – Not only can you find the snow reports from the major regions in the US and Canada, but the site has detailed information for Europe, South America, and New Zealand. OneTheSnow lists the top snow getters of the past 24 hours, the most popular ski vacations, and discount dealers and offers from vendors.

Also, you can buy ski/snowboard gear.
SkiReports.com – Similar to OneTheSnow in terms of information, and layout, SkiReports lets you create customized ski reports for your website or blog. Pick your favorite resorts and get snowfall, base, and trail information.

Don't forget to setup email notification when your favorite resort or region gets new snow (the default is 6 inches, but you can change it).

SnoCountry.com – This site is geared more towards vacation planning, flights, and home rental. If you're really a mountain junkie, SnoCountry has real estate listings and land for sale.

Apparently skiers and snowboarders have different nutritional requirements. Find out what you should be eating and how you should be training to make everyone else eat your snow.
Those of you who's snow days are tied to the federal government should sign up for email notification about closings, delays, and liberal leave. We are all eagerly awaiting ski/snowboard season, how are you preparing?