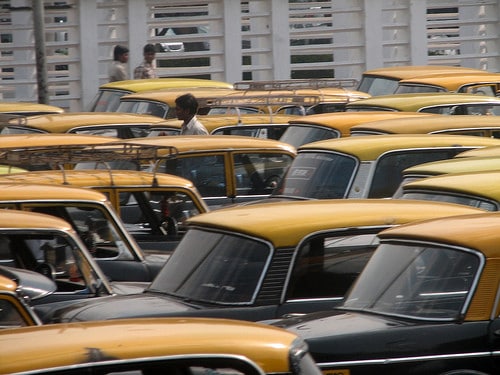 It hadn't been 5 minutes since I cleared customs in Delhi when a young Indian guy asked me if I needed a taxi and lead me to his green and yellow car sitting right outside of the airport. I knew better, but want to see what he was up to. The entire time he was rather talkative, asking questions about where I was from and doing in India – none of which I answered truthfully. Then I asked him how far away the hotel was, "25 kilometers" he replied for 3875 rupees (~$89 dollars).
Of course I didn't get in, I went over to a prepaid taxi stand, paid 270 rupees ($6.20) for a short 5km trip down the road to my hotel.
I read about such cons at Indian airports before my previous trip to Bangalore, but it's easy for someone to get taken in the confusing atmosphere outside of the terminal. Fortunately, it's just as easy to avoid getting ripped off (or worse) with a few simple precautions.
Always Get Your Cab From A Prepaid Taxi Stand – These government-run booths are located toward the exit of the major airports with bold yellow signs. The prices are set by the state and the licensed drivers can be trusted to take you straight to your destination. You will also be provided an official receipt after prepaying.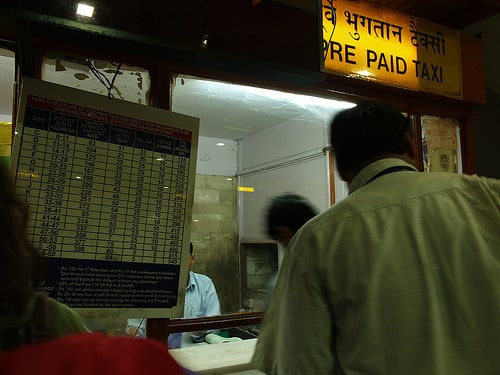 Know Your Rates – Make sure to ask your hotel, business partner, or the people you're visiting to give you an estimate on how much and how long it will take you to get to your destination. (The receipt given to you by the prepaid taxi stand clerk will have the price. Include about 50 rupees for tip.)
Keep Your Bags Within Eyesight At All Times – Don't let someone else, even your driver, carry your bags or pull your suitcase for you. Mostly it's benign but until you are in the cab with your bags you run the risk that someone will run off with your stuff.
Watch For Other Tip Offs – These are signs that you might be close to getting hustled.
Very talkative/inquisitive driver – A legitimate driver isn't likely to care about your personal life or interests in India.
Unmarked cars – Although a green and yellow car may also be scam trap if you decide to forgo the prepaid taxi services, an unmarked car is a dead giveaway…not to mention potentially very dangerous.
The driver tells you the place is farther away than you know it is – 25 kilometers is not 5.
Finally, it's still possible to get ripped of by a taxi driver, even if you follow all of the precautions above. Whenever you get ripped off, it's best to use your judgement, but I'd recommend avoiding confrontations. Losing a few bucks is one thing, losing a few teeth is another.
Taxi scams are only one of 13 elaborate schemes you need to be aware of to stay out of trouble. Keep your wits about you and travel smarter and safer!