Save yourself the time of remembering all of your frequent flyer program numbers, expiration dates, and accumulated miles and points by using Award Wallet. This free website lets you create an account to store all of your miles and awards program information in one place.

How It Works
You begin by creating a simple login name and password with Award Wallet. You'll be able to choose from most of airline frequent flyer, hotel, car rental, and credit card reward programs. Award Wallet interfaces with each reward program and by entering in your program username and password will update all of your information automatically.
Award Wallet gives you the option of saving your passwords with them or locally on your computer. I recommend keeping your passwords locally if it's your computer only.
You'll also be able to enter other information like email notifications when you reach a certain point or mile goal you've set and will be emailed 90 days in advance of when your miles for a particular program are about to expire. (The free version of Award Wallet only supports 3 expiration notices however.)
Award Wallet Interface
There isn't anything fancy about the interface, it's simple to navigate and lists the programs as well as points and miles you've racked up. You can also redeem your points through Award Wallet which will pull helpful information like how many more miles you'll need to take the trip to Argentina. There is also a forum where members can list deals they've come across and 'connections' so you can share some of your information with friends.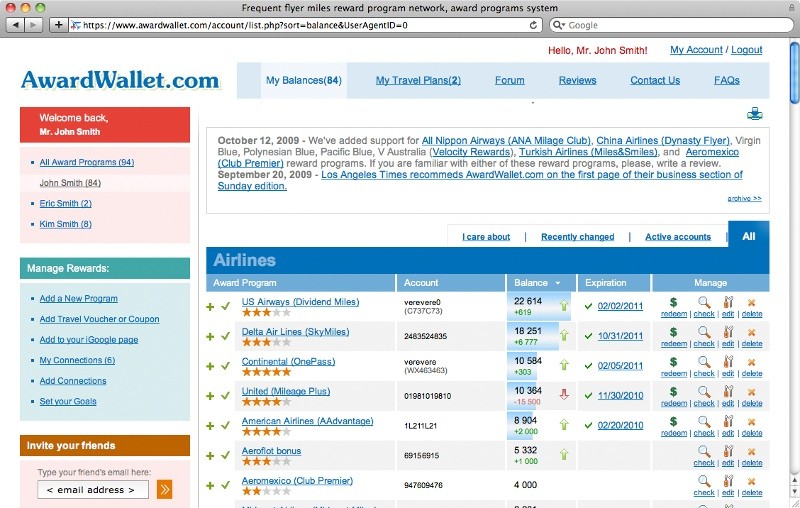 There are two versions of Award Wallet; the free one and then Award Wallet Plus. Aside from getting an unlimited number of expiration notices (instead of just 3 for the free version) Award Wallet Plus lets you record and pull more information from each reward program. (You get to set the price for an Award Wallet Plus subscription.) For most travelers though, the free version of Award Wallet will suit the basic purpose.
A Useful Web Tool
I wasn't paid to write about Award Wallet, I just thought it was a useful website that will make life a bit easier for travelers. One big mistake most travelers make is not using mile or awards programs at all, or neglecting to include their information when booking a flight or hotel. The more programs you sign up with the hard it becomes to keep track of each one. I'm always fumbling to find specific reward program numbers myself. Award Wallet is free to use and is an excellent tool to use in conjunction with the Frequent Flyer Master eBook.