You can connect with others in your local area to exchange language skills, have conversations, and practice that next language you're learning using LingoMatch. The free social network lets you create and search through ads for local meet-ups with native speakers. In exchange that person can practice with you adding another dimension to the process of learning a new language. It's another free online tool to learn new languages and I recently gave it a test spin.
How It Works
Signing up for LingoMatch only requires an email address and password – it's your fairly standard double-opt in that doesn't require a lot of information.
If you don't want any marketing emails make sure to un-check the box during sign-up or send them an email through their contact form.
Once you're signed up you can browse through various ads to exchange language skills. LingoMatch seems to have most of its users in the UK, Europe, US and South Africa but you can search for others. I should clarify that although they're called "ads" there isn't any selling or buying going on. The exchanges are for the mutual benefit of both parties – sort of a CouchSurfing for languages.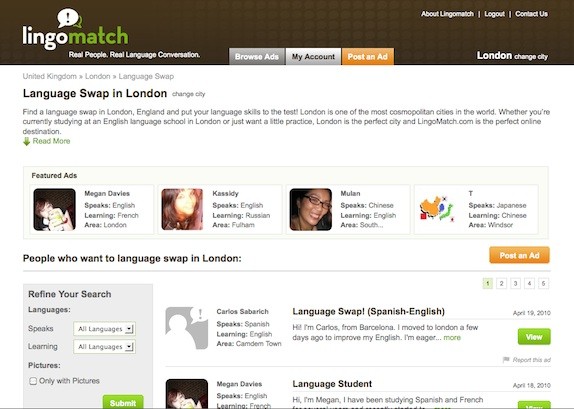 Language Exchange Ads
The ads last 180 days and include profile pictures, but tend to be very short with just general location information along with what languages the person knows and what languages they want to learn. The ads don't say much and it's up to you to message the person and arrange the meeting. There also isn't any standard for the meet up, it's really designed as a way to set up conversations really. More detailed ads (or requiring users create them) would make the site easier to navigate and encourage more meetings I suspect.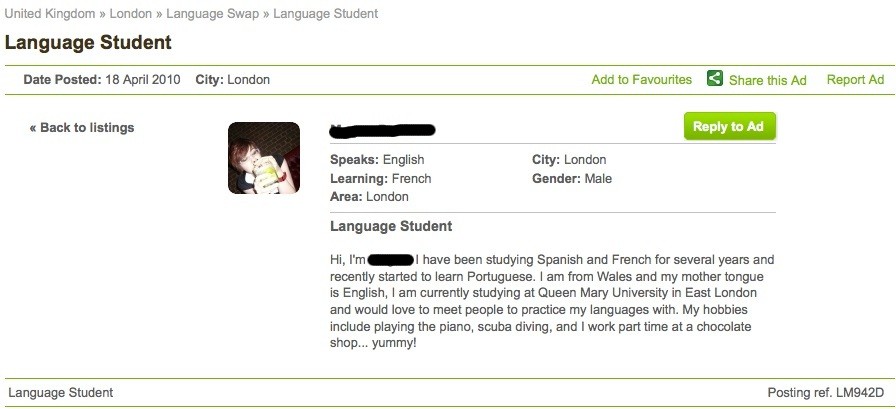 Social Network For Language Learning
I didn't actually meet up with anyone using LingoMatch but think it's an interesting way of leveraging a social network for learning. It's a good concept that needs some work with better ads and perhaps integration with existing networks like Facebook or Twitter to harness the power of tweetups. (I'd also prefer a more straightforward approach to opting out of marketing emails and a clearer privacy policy.)
Since most of you take the time to learn a few words of the local language before a trip LingoMatch could add a helpful hand before, during, or after. In a few days I'll take a look at some other ways to get social while learning languages but if you're on limited time, these are 4 word combinations you shouldn't neglect to look up.