You can find many good resources online that won't cost you anything to help you learn anything from a few words to passable conversational skills in a foreign language. By putting some time aside on a long flight, during layovers, and in the hotel you can educate yourself on useful skills like ordering a meal.
Best of all none of these online websites, courses, and translators cost you anything and some even offer the benefit of chatting with other students trying to learn the same language as yourself.
Livemocha

One of the most comprehensive free language resources on the Internet, Live Mocha offers lessons in over 29 languages. Liva Mocha offers about 160 hours of language immersion lessons (similar to Rosetta Stone) and isn't only for English speakers. You can set your home language to any of the 29 offered. In addition to language courses, Live Mocha has an active community of language students and teachers as well as recordings of live conversation.
Live Mocha's basic services are free with registration (approximately the first 40 hours of instruction). The premium service runs $12.95 per month and adds the benefit of personal tutors and traditional grammar and phrase books.
Word2Word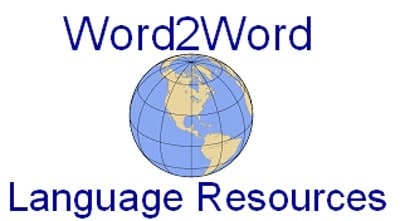 A full listing of different free language resources including blogs, name pronunciation lessons, and slang dictionaries. Word2Word itself doesn't have any language courses or translation services, it just directs you to sites that do. Word2Word is a simple and effective interface, although now a pretty one. You'll have to fish around a bit to find a good resource for the particular language you are looking for but there are plenty of good options.
Word2Word is absolutely free as are almost all of the sites it guides you to and doesn't require any registration.
LangtoLang

This simple translator holds over 26 million words and pulls data from over 2,000 online dictionaries making it an excellent place to translate less common words. For most languages LangtoLang also translates conjugated verbs and provides a visual keyboard to type in non-Latin characters.
One of the best features of LangtoLang is the auto-complete which makes it easier to write or find words if your international spelling isn't so great. Bloggers and website owners can also integrate the LangtoLang search engine into most sites.
Open Culture Free Language Lessons

The website written by Dan Colman is an excellent resource for free cultural and educational media online which includes this list of free language audio lessons. Colman has links to the iTunes audio files as well as the corresponding websites for 37 languages. A useful set of files you can load on your iPod touch and listen to without an wi-fi connection.
Some More Free Resources
iTranslate – One of the best iPhone apps for travelers, this free application not only translates words and sentences, but stores your previous searches for quick reference.
Mango Languages – It's not free but you'll get a single trial lesson that's usually enough to learn these 4 word combos you shouldn't neglect to translate before your next trip.
Forvo – Listen to how specific words are pronounced. Many words are available but with free registration you'll get access to all of them.
Busuu – Aside from the mini language courses, Busuu's strength is to put you in touch with native speakers of the language you're trying to learn. It's a good exchange and you'll be able to help out others in the community as well.
Google Translate – Useful to translate documents and entire websites, albeit with some errors. Another way to use Google hacking for your next trip.
NotesInSpanish – A great (Spanish-only) online resource with audio lessons, worksheets, and videos recommended by Heather.
If You Decide To Pay
In addition to Rosetta Stone and Pimsleur (both of which I've found highly effective if practiced often and consistently) here are some of the other best ways to learn a new language. Of course there are probably lessons being given somewhere nearby (give a call to the appropriate embassy to find out) for most languages.
Take The Few Minutes
There is so much free time you have when you're in transit and traveling. It's a great time to bum a wi-fi signal and spend a few minutes here and there learning a few phrases and basic words before going to a new country with a new language. The local language is tied to the local culture and you can get a better sense of both by using some of these free language resources on the way.
[photo by: workshifting]