There are a number of free online resources for learning new languages, which are great ways to learn the foundations of a given language, but most of them lack the ability to put your skills to use with other people. These 3 language social networks are ways to meet other travelers who are native speakers or at the same level as you are in that second, third, fourth, etc. language. It's an excellent way to practice and put your skills to the test to improve upon what you've learned.
LingoMatch
Last week I took a look at the language exchange network LingoMatch. A fairly straightforward interface, you can post ads to teach, learn, or exchange language skills with others across the LingoMatch network. There are no set rules to engagements which can be face-to-face or over Skype.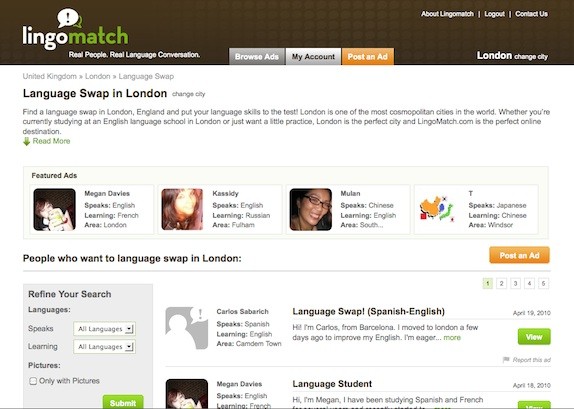 Busuu
Busuu is primarily focused on the Romance languages, English, and German. Busuu not only lets you connect with other travelers but has free online courses and integrated video chat as well.
SharedTalk
A language exchange community run by Rosetta Stone, the most useful aspect of SharedTalk is its forums and text chat. SharedTalk would be so much more useful if it could integrate with existing social networking platforms like Skype but is a good place to find the answer to that obscure Spanish grammar question.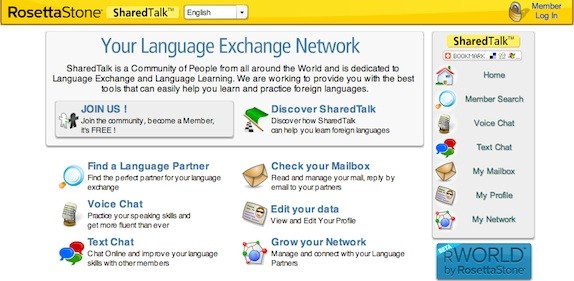 More Free Language Resources
Since I last wrote about these free online language resources, I've come across a few others. None are particularly social but teach each language with different methods, some of which may work better for you than others. Also, they're all free as well.
Use The Variety
These online language social networks all give you different levels of sociability, whether you want to meet people in person or just practice your skills via chat. It's important to converse with native speakers as well as other students to feel comfortable speaking when you're actually traveling and pick up on cultural context and slang. As travelers you shouldn't neglect the strong connection between language and culture, and despite the fact that English is the universal language it's not used everywhere. Besides, it will make it that much easier to order danishes in Denmark.