The first round of The Best City To Visit Travel Tournament 2011 was a voting frenzy, with generally tight competition in close races like Stockholm over Cairo and Bratislava edging out Valletta. Of all the races, I'd say Bellagio eliminating Tel Aviv was probably the biggest upset, although I'm not sure many would have foreseen Lubeck putting Washington DC out of the running. There was a single tie at the end of round one, and being the tie breaker, Vilnius squeaks into the second round just ahead of Mexico City.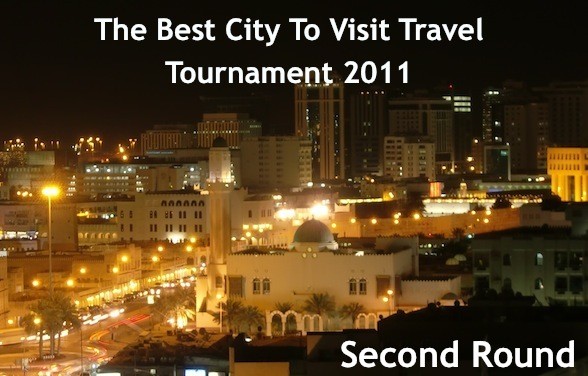 Will it be Stockholm or Kyoto, Istanbul or Chicago, Barcelona or Amsterdam to make it to the Sweet 16 in The Best City To Visit Travel Tournament? Vote below before next Monday March 14th, 09:00am US EST and help choose who moves closer to the $150 prize. (Email and RSS subscribers will need to click through to this page to vote.)
You can view the entire tournament bracket in full size or click the image to view in wide-screen.
Vote for your favorite cities to travel to and next Tuesday, March 15th we'll have a sweet 16 left on the road to the best city to visit in 2011.
Don't worry if you missed this contest, I run several throughout the year. You can be the first to find out about the next one by signing up for my email updates, RSS feed, or bi-monthly newsletter.