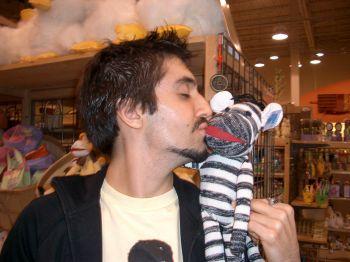 The author of the sexiest summer travel post will win a $250 voucher for the airline of their choosing. The contest runs from May 1 through June 15, read on for details on how to submit your story and win.
Several factors will be involved in winning and the contest outcome will be based on a point system. The single post with the most points at the end of the contest wins.
–
What You Have To Write
A post of at least 250 words about your sexiest summer travel story. Only original work will be accepted.
I'll give each one a grade of 1-7 depending on originality, writing quality, and entertainment value. Remember that "sexy" can mean anything – for some it will be saving penguins in Argentina, taking a motorcycle tour of South America, or a a trip to a Swedish night club. Sexy is what you make of it so tell us why your story is the sexiest!
Worth: Up to 7 points rewarded (by me) at the time your submission is posted.
Bonus: 2 points by adding 2 links at the bottom of your post referencing two blogs of your choice.
Submissions will be posted on Fridays at the end of each week throughout summer and the winner announced on September 1, 2008. I'll post the first submission beginning on June 20 and every Friday after that in the order I receive them, through August 22.
How To Earn Additional Points
Post Ratings: There are 5 little stars below each post. The person with the most, and highest rating will earn a point.
Email this post: Using the email link above the post ratings, the post that is emailed the most will earn 2 points.
Post a link: To this post or foxnomad.com on your website, blog, Myspace/Facebook and receive 2 points. (Let me know when you do).
Comments: The post with the most comments from different readers will earn 3 points. (Comments that come from me don't count).
Get others to submit entries: if they reference you in their submission it's worth 4 points.
Deadlines
The submissions will be accepted from today, May 1, 2008 through June 15, 2008. I'll post submissions on every Friday and tally up bonus points on August 30. The single post with the most points at the end of the contest wins.
The winner will be announced on September 1, 2008 and the prize will be awarded September 15, 2008.
I'll post updates on who has how many points along the way and let you know the leaders across the various categories.
What's the Prize?
The prize is a $250 voucher toward the airline of your choosing that supports gift certificates. Those of you who live abroad will get the equivalent in your currency.
How To Enter
Leave a comment underneath this post – that enters you in the Sexist Travel Story contest. I'll send you an email back to confirm your entry. Reply back to me with your entry by June 15.
Other Questions You May Have
Can I enter multiple times?
Yes, you may. Each submission will be rated separately – no combining points for two or more sexy stories.
Can I submit anonymously?
Real names don't have to be published, make sure to let me know what we should call you when you submit.
Why are you running this contest?
Really to add fresh life into foXnoMad during the slow summer months, and while I travel around and come up with my sexy travel stories 😉 I'd like to familiarize people with the site's features and meet new travelers – not to mention help them travel!
Why a point system?
I'd like to keep things fair and not let everything be decided by a single judge. It also encourages you to keep up on what you and everyone else wrote and send it out to your friends.
I'm still confused about some stuff, what can I do?
You can shoot me an email, or just ask below in the comments.
I've run other contests with some great entries, good luck everyone this time around!