In the middle of a long road trip, you drive up on a breathtaking natural wonder that instantly makes you reach for your camera. Everything is going as planned, except when you hit the 'power' button on your camera nothing happens. This was the case for me the other day while traveling through Kansas, and it got me thinking about what you can do to handle such a situation.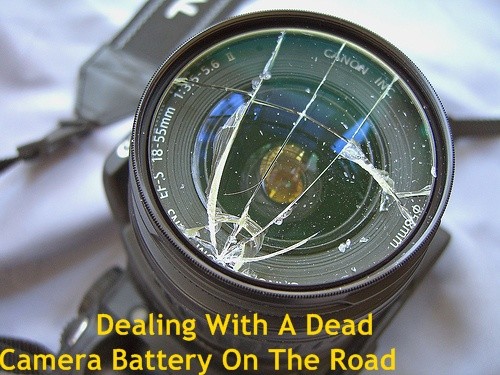 Unfortunately there aren't many options to getting a charge if you don't have a charger or aren't near a plug, but you can deal with a dead camera battery by not making the situation worse.
Get Over It – After confirming that you don't have a spare battery and that there is no outlet in the middle of the desert don't spend anytime being frustrated. Not having a working camera only prevents you from taking pictures and don't let that stop you from keeping the trip going.
Buy A Disposable – This obviously won't work everywhere and will have you backtracking a bit, but if you're relatively near civilization and simply must have that shot a disposable camera will do the trick. (I don't recommend keeping one on hand at all times though, since high temperatures can warp film and won't hold up over a few weeks in a backpack.)
Set Up For A Desperation Shot – Heat dissipates the charge of most batteries fairly quickly and you can try removing the battery and cooling it off on hot days for the chance at one last shot. Most camera batteries sputter a few times before completely dying, so don't waste what's left by turning the thing on and off. Set up and get a good angle on the shot you want and fire the trigger as soon (if at all) the camera turns on.
Don't Neglect Other Cameras – Your laptop or cell phone is probably equipped with a built in camera (or you might have a USB web cam). It can't hurt to take a shot with these devices if you remember that you have them on you. (As I write this I'm just remembering that I should have done this, but forgot about the web cam I always have in my backpack.)
Sketch It In Your Journal – Pen and paper are small travel essentials that don't get much love in the digital age. Ever since my sister bought me a journal a few years ago for my birthday, I write a little here and there when I'm traveling. Jotting down a basic image of that scene you couldn't capture with your camera will bring back the memories years later.
Be Prepared For Next Time
Take the consequences of any mishap you encounter while you travel, from getting ripped off while shopping to falling for an Indian taxi scam, and learn from it for the next leg of your journey.
Match Up Your Chargers To Devices – Travelers often count over and over their electronic devices before packing them but rarely do the same with their chargers. Match up the charger with each device when packing.
Go USB – Rather than wall chargers, try to convert all of the chargers for your essential electronics to USB. A laptop can act as your own personal charging station, assuming that you have battery and camera chargers that can be plugged into a USB drive. It's worth the extra few bucks to buy new USB chargers for any of your electronic essentials that don't already have them.
Stop Relying On Charge Indicators – Many of us certainly hold a lot of faith in the charge indicators on our devices. While it's better for (most) battery life to charge and discharge fully for each use, don't leave the house, hostel, or, car with a charge showing less than full.
Some Other Ways To Get The Shot
Ask someone you're traveling with if you can pop your memory card in their camera for a moment to snap that picture.

Look at getting a solar charger for your camera, Solio chargers run around $100-120.
Don't ruin your mood if your camera battery dies in the middle of your trip or adventure. A good mood is the most valuable asset a traveler has and you need to do your best to maintain it. Eventually you will get your charge back, just keep rolling when your battery dies and prepare better next time.
[photos by: beardnb, Darren Hester]