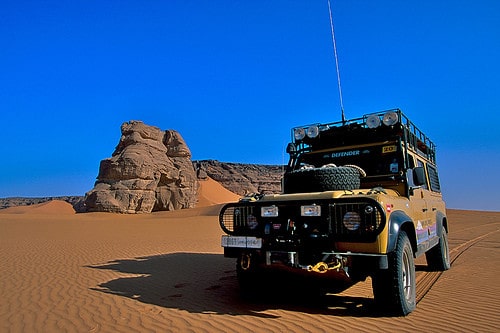 Travel to a new frontier of tourism as it opens up to the world by booking a flight to Libya. Despite its turmoiled past with the West, Libyan leader Muammar Gaddafi's recent strides to end his nation's isolation make it a unique place to visit. While getting a visa may be cumbersome (you'll have to book through a tour group) there are 6 reasons you should make Libya your next destination.
The Sheer Number of Sights – Libya is home to the ruins of the prominent Roman city of Leptis Magna. The ruins are a UNESCO World Heritage Site and one of the best preserved Roman cities. Libya is home to 5 World Heritage Sites and one of the 100 most endangered World Monument Fund sites, Wadi Mathendous.
It's Safe – Crime rates are low in Libya (half that of the US) and limited to petty theft. You'll be safer in a tour group, although independent travelers can get around fine after learning the local way of doing things.
Your Dollar and Euro Go Far – Most strong foreign currencies go a long way in Libya and it's an up and coming place to travel on a weak dollar.
Coastline – Libya has over 2,000 kilometers of cheap Mediterranean coastline. A number of resorts have been popping up along this temperate region which is cheaper than comparable Spanish or Italian beaches.
Open Roads – Admittedly not for everyone, but Libya's (relatively) developed highway system is idea for car and motorcycle travel. It's one of my personal ambitions and to tour across Africa, including Libya, on a motorcycle. Check out overcross.com's Sahara tours for a taste.
It's Unique – Thirsting to be 'the first' or one of the few travelers to a destination? Libya is just opening up into a tourist spot and I feel it will go the way of once cheap Morocco. Book a trip to Libya before you regret losing that cheap destination.
There are a number more reasons I could have listed but the general idea is that Libya is a new destination that's cheap, safe, and as a lot to offer. It's probably not the ideal place to visit for travel novices, just yet. Those of you looking for some adventure in a country that has a more developed tourism industry should consider these 8 places you should visit but might be scared to.
[photo by: indigo prime]