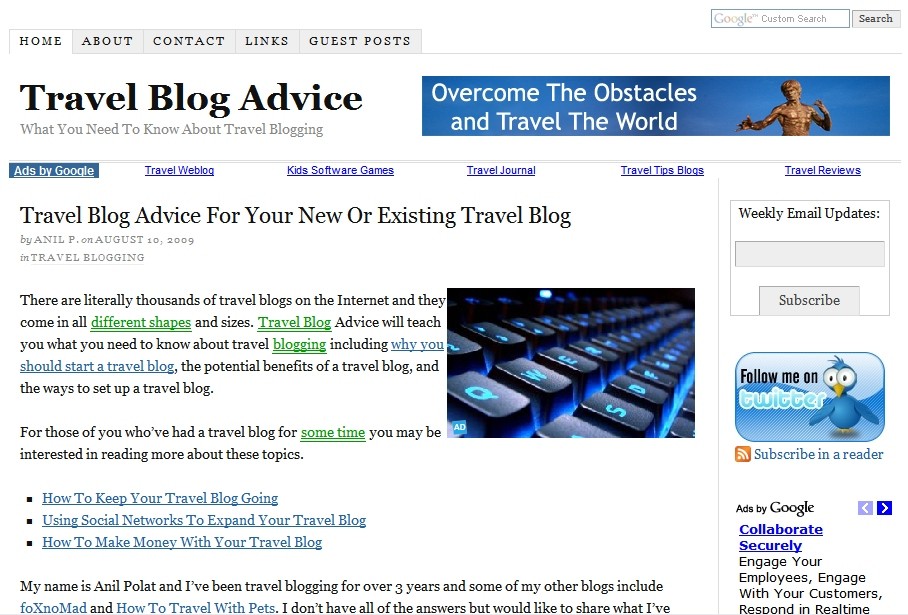 Last week I mentioned that one of the things I've been up to recently is creating 3 new travel-related blogs. I'd like to introduce you to my next project, Travel Blog Advice. It's a site that's all about travel blogging, something I've been doing for over 3 years now.
Why?
The idea came about from the response I've gotten about several posts on foXnoMad about the subject. If you've read 15 things about foXnoMad you know that I have anywhere from 50 to 100 blog post ideas in a list at any given time. There are enough items on the list to dedicate to its own blog and that's what Travel Blog Advice is for.
Here are some of the first posts already on the site:
I'm not the most successful travel blogger or know everything about it. I'd like to share my experiences and recommendations about travel blogging to help you develop yours and learn from my mistakes. I've also got a lot to learn from all of you travel bloggers which is why I hope you'll share your personal advice and comments on Travel Blog Advice as well.
A Bit More About Travel Blog Advice
The site will be updated every Friday. You can subscribe to the Travel Blog Advice RSS feed to get the latest posts as they are published. I've also got a budding Links page on Travel Blog Advice. If you'd like to swap links with your travel blog please feel free to contact me.
How You Can Help
Your feedback! Let me know what you think of the site, posts, or anything else. Constructive criticism is always welcome.
Comments. I do hope that Travel Blog Advice becomes a place where we can all learn new things about travel blogging by sharing our combined knowledge. Even if you don't have a travel blog you're reading one so please do share what you like and don't.
Guest Posts. If you have an original post you'd like to submit send me an email and I'll gladly return the favor.
No More Travel Blog Posts on foXnoMad?
No! I'll still be posting about travel blogging and writing here on foXnoMad from time to time. Travel Blog Advice will just be the place that's all about the subject and more focused on the nitty-gritty of travel blogging for travel bloggers.
What's Next
My next travel blog (the last one for a while) is about a subject near and dear to my heart. I'll let you know all about it next Tuesday but until then I'd appreciate you taking a moment to check out Travel Blog Advice.
Many thanks in advance, -Anil.