Cyprus is a Mediterranean island tucked roughly 50 kilometers south of Turkey, and while you may have heard of it, the complicated political situation there might have you in the dark about "North Cyprus". The island, divided since 1974, operates as two completely separate states with only one internationally recognized. Here's what you need to know about traveling to the north, a bit about the south, and introduction to the people in between.
First off, let's get out of the way that the recent history of Cyprus is highly controversial and many of these points are frequently debated.
Why Isn't North Cyprus On Any Maps?
Technically what's commonly referred to as "North Cyprus" formally calls itself the Turkish Republic Of Northern Cyprus (TRNC) and declared its independence in 1983. It is a de facto state which is not recognized by any country except Turkey and the reason why you won't find it on most maps.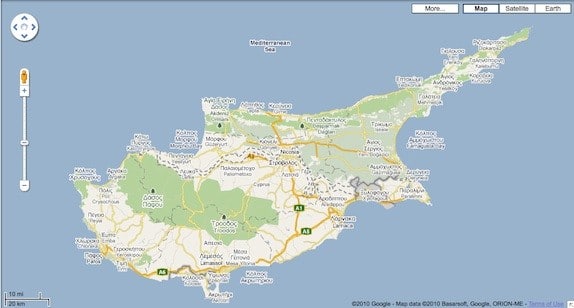 Following this international convention, most newspapers, travel magazines, and media outlets use "Cyprus" when speaking about the entire island.
Since 1974 the island of Cyprus has been cut in half, separated by a United Nations (UN) Buffer Zone also known as the "Green Line".
Although once forbidden, travelers can now use one of several legal crossings between the north and south, mainly in the divided capital Nicosia/Lefkosa.
The international community views the north as being illegally occipied by Turkey (as Jennifer Lopez recently found out). That's because in 1974 Turkey sent thousands of troops to the island in response to a Greece-backed coup d'etat. The Turkish population fled north and the Greeks south; Turkey continues to maintain about 40,000 troops in the TRNC.
North Cyprus Travel Basics
Being an unrecognized state might have you wondering how on Earth you'll be able to handle basic travel tasks like pulling money from your bank or calling home. In reality it's not much different than anywhere else in Europe.
Currency – The TRNC uses the Turkish lira as its currency. Food is relatively inexpensive in North Cyprus as is alcohol and cigarettes which are hardly taxed.
ATMs and Banks – Most major banks like HSBC have ATMs and branches in the TRNC. Accessing your money won't be a problem.
Phone Calls – The TRNC mobile phone network is run by Turkish carriers and uses the same country code (+90). Foreign SIM cards and those bought in Turkey will generally work in the TRNC; however, regular SIM cards purchased in the TRNC won't work outside of the north.
Mail – Sending it from the TRNC is easy; to receive mail at your hotel or hostel letters will need to be addressed to "Mersin 10 Turkey" and then the local TRNC address.
Tourist Visas And Getting To The TRNC
I've already talked about at how to get to North Cyprus but essentially you'll need to go through Turkey. While you can find many flights from major European cities to the TRNC's Ercan Airport (code "ECN") the planes will touch down in Turkey first before continuing on. Citizens of most developed nations can enter the TRNC and get a visa upon arrival for 90 days. (Tourist visas for most nationals are free of charge.)
Keep in mind when looking for a tourist visa to research specifically for the TRNC not simply Cyprus; otherwise you'll get information about visiting the south, which happens to be an EU member and has different requirements.
There are also daily ferries from (notably Tasucu) Turkey and occasional tours from other Turkish ports to Girne Harbor in the TRNC. If you're at all confused about the visa situation, you can call either a TRNC or Turkish embassy for more information.
The Confusion About Names
You'll notice that every city in North Cyprus has a Turkish and Greek name on most international maps. The Turkish Girne is officially recognized by the international community as Kyrenia, Lefkosa as Nicosia, and so on. That makes it slightly tricky when booking or researching travel plans to North Cyprus and another reason most people don't know the island is split.
Obviously in Turkey and North Cyprus the Turkish names are the convention and everywhere else you'll find better information by searching for the Greek names. That is however slowly changing as many tourism companies are making it a habit to display both, if not just the Turkish name for vacationers.
What You'll Find Upon Arrival In North Cyprus
As complex, and often tense, as the political situation is on the island, travelers arriving in North Cyprus will be largely oblivious to it. North Cyprus has a growing tourism and foreign real estate industry with a large number of British visitors and expats. There are boat tours, fancy restaurants, casinos, historical sites as well as plenty of places to see and learn about the ancient and recent Cypriot past. Ever so gradually things are opening up with cruise boats from Italy docking occasionally and weekly ferries to and from Syria.
Despite the tensions, political complications, and uncertain future of the TRNC it's an opaquely normal place to visit.