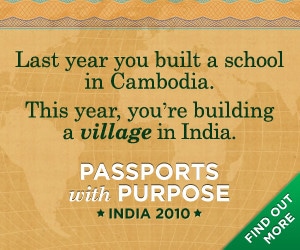 Passports With A Purpose is a travel-blogging fundraiser group who annually takes donations to help non-profit organizations; last year through your efforts they helped build a school in Cambodia. This year Passports With A Purpose is aiming to build a village in India. Every $10 you donate will not only be one step in that direction, but also enters you to win one of several prizes sponsored by a variety of travel bloggers, including myself.
Contribute To Passports With A Purpose

You can donate in increments of $10 to help the non-profit organization Friends Of  LAFTI in their goal to build a village in Karunganni, India. With each donation you can select to win one of many prizes, like the iPod Nano I'm contributing. Winners will be chosen at random and announced on December 17, 2011; all donations are also US tax-deductible.
How Your Money Will Be Spent
For every $2,000 collected, LAFTI will build a home in Karunganni, India and give the land title to the woman of the household. The goal of the LAFTI organization is to raise enough money to build 25 homes. LAFTI's founders, Krishnammal Jagannathan and S. Jagannathan, have been committed to helping Dalits (India's untouchables), especially women, with projects that include land distribution, cultivation, adult training, youth housing and housing construction.
Donate $10 And Win One Of Several Great Prizes
To contribute $10 or more, head over to the donation page at Passports With A Purpose. Every $10 lets you put in an entry for one of these prizes of your choosing. Winners will be notified on December 17th and you can follow along with the progress of the fundraiser on the Passports With A Purpose homepage.
My Prize Contribution: iPod Nano
You know I love tech and I know you do too so this year I'm contributing an 8GB iPod Nano as one of the donation prizes. The latest version is touchscreen, has an FM tuner, holds around 2,000 songs, and weighs less than 22 grams.
It also charges up in about 3 hours giving you 24 hours of continuous music. The iPod Nano is a small, but useful gift for most travelers.
Make A Donation Now
All you have to do is visit the donations page and select any prizes you'd like to win, with each $10 corresponding to an entry. If you have any questions, please feel free to get in touch with me or Passports With A Purpose directly. I encourage you to take a look at the prizes and consider making a donation.