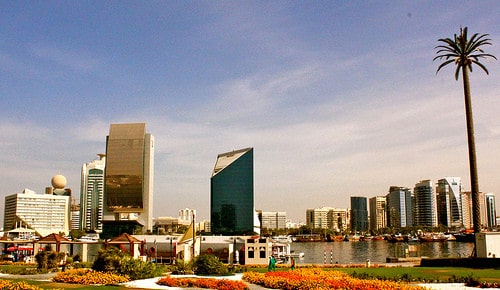 Dave Brett, the winner of my Live The Backpacker Life Contest, chose Dubai as the destination for his free one week backpacking trip. Recently returned, he was kind enough to check in with this photo and his impressions of one of the world's fastest growing cities.
Dubai is a city moving to the future and it's great to see the contrast between the old sulk of Bur Dubai to the modern development of Jumeirah. Dubai's a wonderful city to explore and indulge in mega shopping facilities and its eye for luxury. With many direct connections to Europe and bundles of cheap hotels, they turn Dubai into a long weekend for a taste of this Arab city. To make it an extra special trip, invest in a desert safari topped off with a sunset dinner to escape the city, and bash around the dunes in a 4×4 – which is a must. See the tallest building in the world, ski in the middle of the desert, shop in the biggest mall on Earth and visit the only 7-star hotel anywhere. In Dubai any thing is possible.
Thank you again Dave for sharing, your post spurred a change to my Gulf travels! You can hear and see more from Dubai on Dave's travel blog, a city I'll be in 2 weeks from now.
Those of you who missed this contest will have another shot to win some cash this March in my annual favorite; with a Macbook Air coming up later this summer. The best way not to miss another foXnoMad contest is to sign up for my bimonthly newsletter; that group usually has the advantage of finding out first.
[photo courtesy of Dave Brett]