Those of you who happen to be in Vancouver, Canada on Friday, June 10th are welcome to join Wandering Earl and I give a talk about our recent trip to one of Earth's least visited countries – Iraq. That's right before the Travel Blog Exchange (TBEX) Conference in Vancouver – the same event last year in New York where Earl and I first came up with the notion of meeting up in Iraq.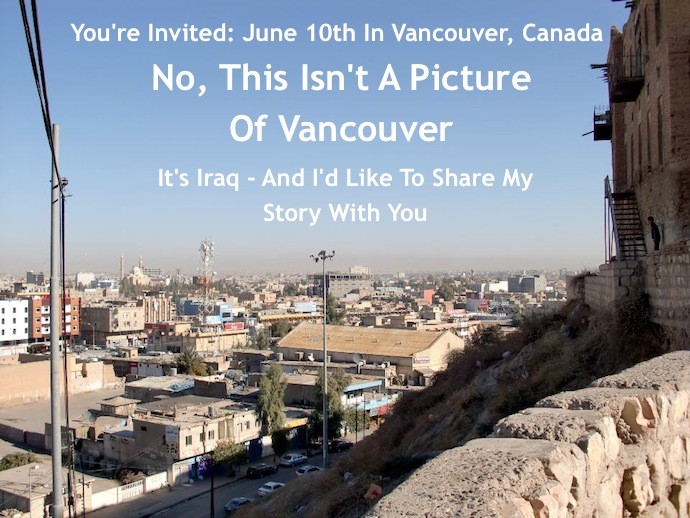 From military checkpoints to Chinese restaurants that don't serve food plus the Boston Celtics at hookah cafes, we'll share with you what had to be one of our most bizarre travel experiences to date.
It was in one of Sulaymaniayh's hookah cafes, over many puffs of shisha, that we decided to help bring a glimpse of Iraq to you. Now, 6 months later, we'll be at the Persian Teahouse at 4:30pm-6pm on June 10th to do just that. You're invited to come hang out, swap travel stories, and ask questions about traveling in Iraq over a tea, shisha, or both.
Actually, the very few hookah places in Vancouver (like the Persian Teahouse) use a tobacco substitute, since smoking indoors is nearly completely banned. That's not very Iraqi but we'll have to make due. You can use the form below to let us know you'll be attending, leave a comment, email me, or just show up.
We hope to see you there – for everyone else not in Vancouver or nearby, I'm planning on recording the talk and posting it later for you to view.
Until then, happy travels as always,
-Anil